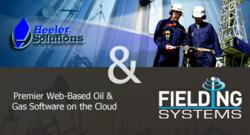 We require partners that recognize the value of our cloud platform and understand how to apply it effectively for challenges including well optimization, enhanced oil recovery, and regulatory compliance," Shawn Cutter, President of Fielding Systems
Tampa, FL (PRWEB) April 17, 2012
Today, Fielding Systems announces a strategic alignment with Heeler Solutions that will allow it to focus on continued development of its industry leading cloud and mobile oil & gas monitoring services. Heeler Solutions will drive industry adoption by combining FieldVisor and ScadaVisor with other hardware technology partners as complete, turnkey packages to address a number of growing complex E&P issues including production optimization, disposal monitoring, security, well tending, multi-well site management and compliance.
"We are excited about this engagement with Heeler Solutions to ensure that our sales efforts are aligned with our capabilities. We require partners that recognize the value of our cloud platform and understand how to apply it effectively for E&P challenges including well optimization, enhanced oil recovery, and regulatory compliance," stated Shawn Cutter, President of Fielding Systems. In March of 2012 Fielding Systems also announced its Disposal & Injection Well Monitoring and Automation offering which is currently deployed in the Marcellus / Utica Play. Heeler Solutions will advance the sales efforts on this service in addition to Fielding System's other core remote monitoring and field data capture capabilities.
Heeler Solutions is currently in the process of expanding with coming announcements for two other representation contracts, which have significant synergies with Fielding Systems.
"We are proud to be affiliated with Fielding Systems. Their platform goes far beyond every other field data capture, production management, and SCADA service for the oil and gas industry. Fielding Systems has created a platform by which E&P companies can take advantage of future needs including customization, integrations and web services that will allow them to continually optimize their production and streamline operations," stated Dave McCarty, Owner of Heeler Solutions.
About Heeler Solutions
Founded in 2012 in Gibsonia, Pennsylvania, which is in the heart of the Marcellus Shale region, Heeler Solutions is an Independent Rep organization specializing in the Exploration & Production upstream and midstream markets. The company conducts direct sales efforts with Gas Producers on behalf of its client base in order to generate demand for their products and services. Heeler Solutions incorporates both direct end user sales strategies and sales channel development initiatives in efforts to generate sales for its clients. Specific areas of focus include SCADA, Monitoring & Sensors, Well Site Services, Flow Back and Produced Water Treatment, Waste Transportation and Disposal, and Regulatory Compliance. For more information please visit us at http://www.heelersolutions.com or call 412-213-8427.
About Fielding Systems
Fielding Systems provides cutting-edge web and cloud based Oil & Gas software solutions for midstream and upstream companies of all sizes. FieldVisor is field data capture and operations management software that can be used to track everything in production operations. ScadaVisor is a remote SCADA monitoring and field automation application for monitoring all types of field devices. The company's software helps producers gain a competitive advantage by optimizing well production, improving well safety and reducing costly downtime. For more information or a demo of the software, visit http://www.fieldingsystems.com or call 877.987.4823.
###
All product and company names herein may be trademarks of their registered owners.
For more information, contact:
Fielding Systems, LLC
877-987-4823
info(at)fieldingsystems(dot)com