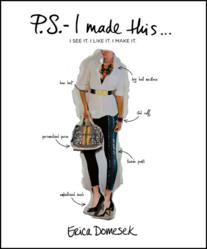 P.S. I Made This... at Waldorf Astoria Orlando
Orlando, FL (PRWEB) April 23, 2012
Do-It-Yourself design enthusiasts and curious crafters alike are invited to re-imagine, re-use and re-invent their creativity over Labor Day Weekend, Aug. 31 through Sept. 2, 2012, during the exclusive 'P.S.– I made this… at Waldorf Astoria Orlando' experience, hosted by designer DIY expert Erica Domesek.
Domesek, the founder of the innovative DIY brand P.S.- I Made This… and website psimadethis.com, is a current sensation in the designer DIY world, with projects featured in publications such as Glamour , InStyle, Self, Lucky, The Wall Street Journal and Teen Vogue, and appearances on the Nate Berkus show, Martha Stewart, NBC, E!, and CBS.
The weekend at Waldorf Astoria Orlando will commence on Aug. 31 with a 'P.S.– I made this… cocktail' welcome reception and book signing with Erica. Upon check-in, all guests will receive a complimentary copy of Erica's book, P.S.– I Made This…, which features more than 25 projects inspired by iconic fashion looks, runway trends and celebrated style mavens for readers to create for themselves.
During Friday night's welcome reception, guests will have the opportunity to meet the celebrated P.S.– I made this… founder and enjoy make-your-own cocktails and hors d'oeurves artistically conceived and exclusively designed by the resort's mixologists and chefs.
Following a relaxing afternoon poolside or at the Waldorf Astoria Spa by Guerlain, guests are invited to experience the weekend's signature event, a 'P.S.– I made this…at Waldorf Astoria Orlando' Crafter-noon Class led by Domesek. Guests will learn Erica's contemporary, user-friendly crafting techniques and receive hands-on instruction to create up to three beautiful accessories and home design pieces as personal souvenirs of their stay. With inspirational, vivid mood boards and clear, easy-to-follow, step-by-step instructions, Erica's unique design projects are tempting to anyone ready to dive into DIY.
In addition to Domesek's appearance, the resort will feature a schedule of four hands-on "how to" sessions throughout the weekend, featuring various subject experts, including Waldorf Astoria staff.
The 'P.S – I made this…at Waldorf Astoria Orlando' Weekend package starts at $199/night, based on a two-night minimum. For more information or reservations on this Waldorf Astoria Orlando weekend package, please visit http://www.WaldorfAstoriaOrlando.com/packages/PS, or call 888-353-2009. For additional schedule updates, visit http://www.bonnetcreekblog.com.
Waldorf Astoria Orlando has put the destination on the map for luxury travelers. Nestled in a nature preserve and conveniently located inside the gates of Walt Disney World, the resort is a sanctuary from the hustle and bustle of neighboring theme parks. Cara Goldsbury, author of Luxury Guide to Disney World, calls it "stunningly impressive." "Swank and sophisticated," she continued, "Waldorf Astoria has redefined local luxury in Orlando."
The hotel is part of a unique resort complex that also features the top-rated Hilton Orlando Bonnet Creek and Waldorf Astoria Golf Club, the championship golf course artfully designed by Rees Jones, which has been named one of the most "playable" courses in the crowded Florida market by two national golf magazines.
Waldorf Astoria Orlando infuses timeless Jazz Age-elegance from The Waldorf=Astoria in New York City, with the vibrant and modern ambiance of Florida. It features 498 guest rooms and suites with sweeping vistas of Walt Disney World and the Bonnet Creek nature preserve. The resort's 171 stunning suites have been called "the best rooms in all of Central Florida."
Golf Channel travel writer Brandon Tucker called the resort "an exclusive playground for the adult-minded traveler." It includes re-imagined versions of famed New York City restaurants include Bull & Bear, Peacock Alley, and Oscar's. Bull & Bear, the hotel's signature restaurant, was named Best Fine Dining by Orlando Home & Leisure magazine in its elusive Silver Spoon Awards issue. The hotel's award-winning spa, which has been profiled by both American Spa and Spa magazines, offers treatments from Guerlain, the legendary Parisian fragrance house.
###
About Erica Domesek
Erica Domesek is a DIY design and style expert living and creating in New York City. As founder, creator, and author of P.S. – I made this... Erica inspires and encourages readers to embrace her creative motto: 'I see it. I like it. I make it,' which reflects the belief that one can find inspiration anywhere and transform what one sees into something fabulous to wear, use, or admire. Each week, Erica features unique DIY projects on psimadethis.com. She has been seen crafting on Martha Stewart, NBC and CBS. Erica's work has been featured in publications such as Teen Vogue, Glamour, Lucky, Self, Domino, InStyle, and Ready Made magazines. She has styled and designed campaigns for International brands such as Coca-Cola, Ford, Roxy, Quiksilver, Sharpie, Helmut Lang, Bloomingdales and more. http://www.psimadethis.com. See a reel of her media appearances here: http://vimeo.com/16730311
About Hilton Worldwide
Hilton Worldwide is the leading global hospitality company, spanning the lodging sector from luxurious full-service hotels and resorts to extended-stay suites and mid-priced hotels. For 93 years, Hilton Worldwide has offered business and leisure travelers the finest in accommodations, service, amenities and value. The company is dedicated to continuing its tradition of providing exceptional guest experiences across its global brands. Its brands are comprised of more than 3,800 hotels and timeshare properties, with 630,000 rooms in 88 countries and include Waldorf Astoria Hotels & Resorts, Conrad Hotels & Resorts, Hilton Hotels & Resorts, DoubleTree by Hilton, Embassy Suites Hotels, Hilton Garden Inn, Hampton Hotels, Homewood Suites by Hilton, Home2 Suites by Hilton and Hilton Grand Vacations. The company also manages the world-class guest reward program Hilton HHonors®. Visit http://www.hiltonworldwide.com for more information and connect with Hilton Worldwide at http://www.facebook.com/hiltonworldwide, http://www.twitter.com/hiltonworldwide, http://www.youtube.com/hiltonworldwide, http://www.flickr.com/hiltonworldwide and http://www.linkedin.com/company/hilton-worldwide.