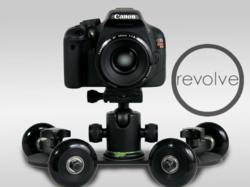 Revolve ... a new versatile, portable, and affordable camera dolly system
Orange County, CA (PRWEB) April 17, 2012
Revolve has successfully raised funds for a new versatile, portable, and affordable camera dolly system on the crowd funding website Kickstarter. Funding for the Revolve began on March 21st, and in just three weeks over $15,000 was raised from more than 120 backers.
The Revolve camera dolly is a platform for capturing smooth and dynamic video footage. The system can be used to create a wide variety of tracking shots and rotational dolly shots as well as dynamic time lapse and stop motion photography. It is compatible with virtually any camera, and is suitable for use on all surfaces and at any location.
With a sleek, compact, and portable design as well as a very affordable price, it is no wonder that the Revolve Dolly achieved over 200% of it's funding goal on Kickstarter in just a few weeks. Revolve offers a number of accessories such as a rail kit and monopod attachment which increase it's versatility and make it unique from any other system on the market.
The Revolve dolly will go into production after the funding period ends on May 6th, 2012.
PRODUCT PAGE
PRESS IMAGES
REVOLVE WEBSITE
Media Contact:
Jeremy Canterbury
jeremy (at) revolvecamera (dot) com