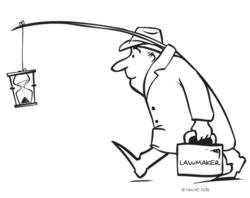 Calls for changes on Capitol Hill in the form of congressional term limits are growing louder.
Richardson, TX (PRWEB) April 18, 2012
As the race toward the 2012 elections heats up, calls for changes on Capitol Hill in the form of congressional term limits are growing louder.
"For over 54 years, NWYC has been encouraging responsible Americans to voice their opinions to Congress," said Randy Ford, President of National Write Your Congressman. "We would like to have your opinion on this important issue."
Rep. Reid Ribble (R-WI) recently introduced H.J.Res.101, proposing an amendment to the U.S. Constitution that would limit the number of years elected officials could serve in Congress. If the amendment is adopted, it would limit House members to 3 terms of 4 years each and Senators to 2 terms of 6 years each. Lawmakers in both chambers would be eligible for a maximum term of 12 years.
Proponents of the measure say career lawmakers gain too much power while in office and they agree with Rep. Ribble who said, "I believe that we need to inject a sense of urgency into Congress and make sure that elected representatives are more focused on governing rather than campaigning."
Opponents to the measure argue that legislative term limits have a direct negative effect on lawmakers and an indirect negative effect on citizens for many reasons. One reason is, they diminish congressional power and transfer that power to lobbyists and bureaucrats who advise freshman legislators do not fully understand many of the complex issues for which they must make public policy.
What is your opinion? Please go to http://www.nwyc.com and participate in the NWYC poll regarding Congressional Term Limits. You will be able to see a running tabulation of the votes.
National Write Your Congressman (http://www.nwyc.com) is a nonpartisan company that has been encouraging constituent involvement for over 54 years. It is dedicated to concerned citizens with real opinions making a real impact on legislative decisions, just as our Founding Fathers intended.
If you would like more information about this topic, or to schedule an interview with Randy Ford, please call Stephen Bison at 214-342-0299 or email him at stephen(dot)bison(at)nwyc(dot)com.