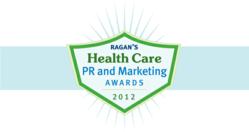 Chicago, IL (PRWEB) April 17, 2012
Ragan's Health Care Communication News, a leading website for industry news in health care PR, marketing, and communications, announces its first-ever PR & Marketing Awards this year. With the introduction of social media and the expansion of the health care field, Ragan felt it was time to create an awards program unique to the health care industry's advances in PR and marketing.
Winners will be awarded in a variety of exciting categories including, "Best Print Publication," "Best Design (Print)," "Best Interview or Profile," "Best Intranet," "Best Blog," "Best Marketing Video," "Best Fitness or Health Campaign" and many more. The categories are open to in-house health care communications departments or agencies on behalf of health care clients.
Winners will receive an engraved trophy for each category they win, and they will be featured in a Special Edition of Health Care Communication News highlighting winning entries. The Grand Prize winner for "Best Health Care PR & Marketing Campaign of the Year" will also receive complimentary registrations to Ragan's Fourth Annual Health Care Social Media Summit at Mayo Clinic this fall, where they will have a chance to mingle with the best and brightest in health care.
To submit an entry to Ragan's Health Care PR & Marketing Awards, follow this link http://bit.ly/JoG7H6.
Entries submitted by the Early Bird Deadline of Friday, May 25th, will save on the entry fee.
About Ragan Communications
Ragan Communications operates two of the top news and information sites for the PR and corporate communications industry — Ragan.com and PRDaily.com. Together, these daily news sites attract nearly 700,000 global visitors. The company also covers the health care and HR communication industry with its daily news sites HealthCareCommunication.com and HRCommunication.com. The Chicago-based company is also the leading provider of conferences and online training to PR, media relations and corporate communications professionals.