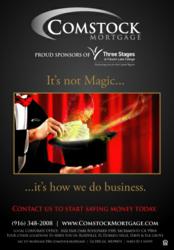 It is an honor to be part Three Stages and its ability to bring quality entertainment to our past and future clients.
Sacramento, CA (PRWEB) April 16, 2012
Comstock Mortgage employees enjoyed a special evening at the sold out Three Stages showing of "It's Magic" last Friday, April 13th. Prior to the show, Comstock employees and their families enjoyed a private reception on the upper level of the Three Stages venue, with beautiful views overlooking the city of Folsom and the rainy weather clearing just in time for a glimpse of the sunset. The venue, with a sophisticated array of food such as salmon roulade and asian chicken butter lettuce leaf wraps, catered by Aramark, was the setting for a delightful evening for all! Bartending services provided by local vendor A Perfect Pour, added an elegant touch to the evening.
The show incorporated amazing and entertaining acts from six extremely talented magicians, and delighted the audience, which was filled with Three Stages patrons of all ages. The magicians incorporated the audience in their acts on the stage, including Comstock Mortgage's own Jennifer Gonzales!
Comstock Mortgage was the main sponsor of the fun filled show, and is also a major supporter of the Three Stages – Three Stages main lobby is now known as Comstock Mortgage Lobby. The shareholders of Comstock Mortgage believe wholeheartedly in supporting the local community and are proud to make a difference and share an enjoyment of the arts with as many people as possible. "As a local company we have a deep commitment to our surrounding communities, it is an honor to be part Three Stages and its ability to bring quality entertainment to our past and future clients. Our promise at Comstock Mortgage is not just to provide quality service to our clients. It is to reinvest in the people and places that make our community a special place to live." said Troy Bird, VP, Shareholder, and Senior Loan Consultant at Comstock Mortgage.
Comstock Mortgage is a local mortgage company with corporate offices located in Sacramento and branches in many of the surrounding areas – Elk Grove, Davis, El Dorado Hills, Roseville, and Natomas. They are a California Department of Real Estate (DRE) and California DOC licensed lender with more than 20 years experience in all areas of home loan financing. For more information about Comstock Mortgage, please visit their website at http://www.comstockmortgage.com.
Three Stages is a facility dedicated to the visual and performing arts. They bring a variety of shows from around the world and the local community to their stage. For more information about Three Stages, please visit http://www.threestages.net