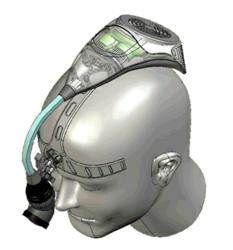 We were faced with a significant obstacle when we had to develop a way to dissipate thirty-six watts of heat in a thermal system weighing less than 3oz to work effectively with ONE Technology
Plano, TX (PRWEB) April 19, 2012
Dallas-based Alpha Med-Surge, Inc., d.b.a., L.I.T. Surgical™ has announced that the thermal system used with the innovative ONE Technology™ (Optical Navigation Engine™) has been issued a patent by the U.S. Patent Office. According to Austin Crowder, Founder and CEO of L.I.T. Surgical, the newly issued patent on this emerging medical technology will add to L.I.T. Surgical's growing portfolio of 33 patents pending, issued or licensed, focused around their platform illumination technology.
"We were faced with a significant obstacle when we had to develop a way to dissipate thirty-six watts of heat in a thermal system weighing less than 3oz to work effectively with ONE Technology™," recalls Crowder. "The need to deliver a comfortable, lightweight, ergonomic headlight, coupled with the design constraints of the Operating Room environment challenged us to innovate our thermal system to safely remove the heat generated by twelve, 3-watt each solid-state point sources with minimal noise, no vibration, and while achieving our low weight constraints. The entire system is balanced ergonomically over the surgeon's spine, allowing for long term comfort in the operating room."
ONE Technology™ works by utilizing complex optical geometries and advanced light transmission materials to combine, homogenize, and broadcast solid-state light optimized for surgical procedures. The patented thermal exchanger is a core enabling technology in ONE Technology™, allowing ONE HeadLIghT™ to produce the light output necessary for surgery without heat buildup. ONE Technology™ is differentiated from competitive solid state technologies, including plasma technology in the ChromaLUME™ from BFW™, and Integra™ LED Headlight System.
L.I.T. has developed and implemented proprietary solutions to technical challenges in the areas of advanced light transmission materials, thermal management, high-intensity solid state illumination geometries, and projection of non-imaging concentrated flux through total internal reflection (TIR), along with industrial design and materials. Future applications of this work include enhanced visual capabilities in the surgical working field using light color or Spectrum Specific Navigation™.
About L.I.T. Surgical
Luminance Integrated Technologies is a medical device development, manufacturing and sales company innovating surgical illumination products for the surgical market. Through the application of protected platform technology, LIT has launched its first innovation, the ONE HeadLIghT™ system to improve the efficiency and outcome of surgical procedures.
http://www.litsurgical.com
http://www.facebook.com/litsurgical