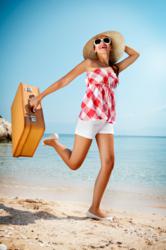 affordable and TSA approved beauty items for carry-on or suitcase
Miami, FL (PRWEB) April 17, 2012
TheBeautyPlace.com and their experienced consultants help clients obtain the best beauty products at discounted prices. In their endeavor in providing an excellent experience they wish to assist air travelers by suggesting affordable and TSA approved beauty items for carry-on or suitcase.
The Bio Ionic TravelPro Dryer Dual Voltage is the online retailer's best-selling ready-for-travel styling tool. It features a dual voltage system for use anywhere in the world. This feature is a benefit for the traveler since a converter or transformer is not needed for use thus saving valuable suitcase or carry-on space. To save the traveler even more carry-on or suitcase space is its compact design with folding handle. It allows 1200W of power for a faster and powerful drying time. Convenient is its ion-conditioning technology that helps for frizz free and smooth hairstyling. "Many clients hear all the great reviews about this hair dryer and get it just to replace their every day hair dryer because of its size and strength in providing a fast hair drying time," says Rebecca, lead consultant of TheBeautyPlace.com.
Professional anti-frizz and thermal hair damage protectors are available in travel-size containers. The best-selling anti-frizz serum BioSilk Silk Therapy is available in 2.26oz. This lightweight hair treatment is popular for being able to repair hair, add shine and provide deep moisture to dry or damaged hair. It is best used before any thermal styling like blow drying or flat ironing for help in preventing hair damage due to high styling tool temperatures. Another beauty product ready for travel are Agadir Argan Oil 2oz and Agadir Argan Oil Spritz 2oz. Argan oil is a nourishing hair oil used as a thermal damage protector and as a leave-in daily conditioner. This oil repairs and moisturizes hair of all types. So nourishing and full of antioxidants is this highly concentrated alcohol-free hair treatment that it eliminates dry ends and itchy scalp problems. "Clients are ecstatic over argan oil. It leaves hair healthy and shiny and its scent is very luxurious," said Rebecca.
The sonic skin cleansing system Clarisonic Mia is a beauty product ready for anywhere a traveler might jet to. Included with the purchase of a system is its own international travel charger and a travel size Clarisonic Gentle Hydro Cleanser. The Mia model is lightweight than other sonic cleansing systems and for the price of the one speed model it makes it a more affordable item to take while traveling. The skin cleansing system uses a rotating brush head to gently remove dirt and oil to achieve more clearer, smoother skin. The Mia model is lightweight than other sonic cleansing systems and for the price of the one speed model it makes it a more affordable item to take while traveling. "The Mia is more affordable, and better to risk taking it on vacation than its more pricier counterparts like the Pro or Plus models."
"A must have beauty item is sunscreen! When clients go on vacation they will certainly be out and about, and protection from wrinkles, dry skin and age spots is important," stated Rebecca. Supergoop! SPF 30+ Everyday Lotion 3oz made the best-seller for travel list. Its size is TSA approved for carry-on. This water and sweat-resistant sunscreen is formulated for moisturizing face and hands. It is oil and paraben free making it ideal for sensitive skin.
TheBeautyPlace.com is a leading online retailer of professional beauty products for hair and skin care needs. Find some of the industry's top beauty brands at extremely competitive prices. Hair products offered by TheBeautyPlace.com range from professional flat irons to products for hair loss. Quality skin care products address skin concerns from anti-aging to acne-prone skin.
Follow TheBeautyPlace.com
On Twitter: @TheBeautyPlace
On Facebook: Facebook.com/pages/TheBeautyPlacecom/125435188536?ref=ts
TheBeautyPlace.com Blog: http://www.blog.thebeautyplace.com
# # #