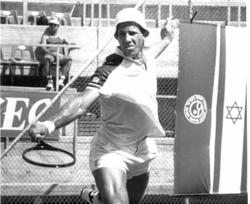 We are so fortunate to have the best known and loved former Israeli tennis star teaching at our camp this summer
New York City, New York (PRWEB) April 24, 2012
Alan Goldner, President of the Israel Tennis Centers Foundation announced that "for the seventh consecutive year, The New Jersey "Y" Camps and our Foundation will work together on behalf of the Jewish community to bring high quality summer tennis programming to the children of New York and New Jersey. The centerpiece of the joint effort will be to welcome Shlomo Glickstein back to the U.S. for his second consecutive summer of teaching tennis."
Former Israeli Davis Cup Captain and ATP Touring Pro, Shlomo Glickstein, will be returning to the New Jersey "Y" Camps teaching two different sessions of camp. Shlomo will be based at the NJY Camps located in Milford, PA from July 8-13 and August 5-10, running an intensive specialty program with four hours of daily instruction for children of all ages and skill levels.
During his playing career, Shlomo, the former 22nd ranked player in the World and product of the Israel Tennis Centers, had victories over #1 ranked Ivan Lendl, #9 Harold Solomon, #10 Eliot Teltscher, and #11 Brian Gottfried. Glickstein played until 1988 and then became the Director of the Israel Tennis Center's Academy in Ramat Hasharon. Shlomo previously captained both the Israeli Davis Cup and Fed Cup teams. He was born in the small Israeli southern coastal city of Ashkelon, and was the first Israeli tennis player to reach a top world ranking.
The New Jersey "Y" Camps have been serving the Jewish community since 1920. The camps offer sleep-away camp programs for children in grades 1-11 while focusing on programs in the arts, sports and academics. Their mission like that of the Israel Tennis Centers Foundation is focused on children. The NJY camps primary goal is for children to leave as better human beings and wanting to lead a more participatory Jewish life.
Six years ago a number of specialty camps were developed in order to enhance opportunities for campers. Programming has grown to encompass 19 different options with an array of celebrity athletes teaching at the camp including four time Olympic Gold Medalist swimmer, Lenny Krayzelburg; first ever designated hitter in Major League Baseball history, Ron Blomberg; former NBA Head Coach Herb Brown and Nike sponsored Major League Lacrosse star, Max Seibald. Other programs include a Ballroom Dance course delivered by "Dance With Me Studios" and a Physiology and Kinesiology series run in partnership with Israel's Wingate Institute and led by former Israeli National Marathon Champion, Adit Ganot.
The Israel Tennis Centers Foundation (ITC) is a 501 (c) 3 non profit organization that has worked for over 35 years to enhance the social, psychological, and physical development of Israeli youth through the medium of sport. Most of ITC Centers are located in disadvantaged neighborhoods or outlying development towns throughout Israel, from Kiryat Shmona on the Lebanese border in the North to Beer Sheva bordering the Negev Desert in the South.
Contact: David W. Lippy
DLippy at Insight.rr.com