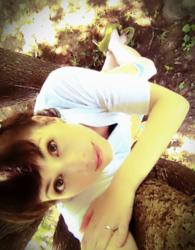 "...And then the voice comes in, a wistful and lovely instrument. The lyrics are thoughtful, displaying a whimsical and deeply spiritual nature. That's Heather McCready..."
-- Mario Tarradell, Music Critic, The Dallas Morning News
Winnsboro, Texas (PRWEB) April 18, 2012
Heather McCready's sweet voice, peaceful music and message of hope as a suicide prevention advocate fell quiet after the creative folk singer/songwriter began to feel unwell just before her Christmas CD was released last year. In addition to ongoing treatment for bipolar disorder, depression anxiety, Heather McCready also suffers from Fibromyalgia and an autoimmune disorder causing her to suffer symptoms that have proven to be a real challenge for the singer such as bouts of throat swelling, asthma, anemia and severe problems with memory. In fact, her illness forced her to cancel her performances and take six months to rest and work closely with doctors to help her recover. Now, Heather McCready is feeling stronger and ready to get back on the stage and do what she loves to do most, sing her uniquely peaceful brand of folk music and spread her message of hope to others. And what better place for her to return to the stage than a concert that benefits causes near and dear to her heart? Heather will be performing alongside her producer/ arranger,Milo Deering, a well known virtuoso and highly sought-after studio musician who has played on literally hundreds of CD's. Milo's gifted hand can be heard on many singer's and songwriter's albums, most notably Lee Ann Rimes, Jack Ingram, Steve Holy, Trout Fishing in America and Slim Whitman. Milo has appeared as a member of Blue Country (Ms. Rimes band) on The Tonight Show, The Today Show, The Grammy Awards, David Letterman, The Billboard Music Awards, Nashville Now, The TNN Awards and The View. Most recently Milo was in the popular bluegrass band, Bealtegras, and has been playing with Heather McCready.
The Wildernest Treehouse MusicFest benefit is on May 4-May 6. 2012. Proceeds will benefit the continuation of musical arts at Crossroads Music Company and Listening Room as well as Mental Health America of Greater Tarrant County, where Heather McCready serves on the board. The weekend will be packed with all genres of bands dedicating their time and talents for music lovers are coming from miles away to enjoy. The location is set on a newly renovated, very cool stage in the trees in a Quitman Texas countryside location. A $25 ticket will buy the whole weekend of music! In addition, every performer has donated a song for a compilation CD to further benefit the causes.
For more information stay tuned to http://www.wildernestmusicfest.com and http://www.HeatherMcCready.com t will be held in Quitman, Texas May 4-6,2012. Space is limited! So hurry and get your tickets! Heather and Milo perform on Saturday evening, May 5th.
Heather McCready and Milo Deering have co-produced, arranged and written together on four CD's together to date. Now they are working on the fifth. Recently one song, "Sunshiny Day" received the high honor of being a semi-finalist in the International Songwriting Competition.
All of Heather Music is available on iTunes, Amazon.com, CDBaby.com.