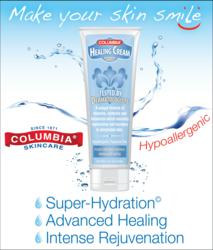 First Aid For Your Skin
BRONXVILLE, NY (PRWEB) April 18, 2012
Columbia Skincare is excited to announce that their products will be part of the Earth Day in Hollywood event gift bags created by Distinctive Assets. Environmentally conscious celebrities will be given the chance to experience Columbia's all-natural full body moisturizing system made with botanicals, vitamins and minerals.
Just as the tropical rainforests replenish the Earth's oxygen, Columbia skin cream uses completely natural and unsynthesized ingredients to hydrate, revitalize and rejuvenate the skin. That's why Columbia is so proud to help make a difference and celebrate our planet with some of the most respected stars of our time.
Celebrities participating in this year's event and receiving bags include: Tom Hanks, Bill Maher, Barbara Streisand, Jeremy Piven, Sting, Leonardo DiCaprio, Mark Ruffalo, Rosario Dawson, Woody Harrelson, Daryl Hannah, Drew Barrymore, Ellen DeGeneres, Edward Norton, Jake Gyllenhaal, Josh Hartnett, Pink, Courtney Cox, Cameron Diaz, KT Turnstall, Dave Matthews, and Orlando Bloom.
About Columbia Healing Cream:
Columbia Healing Cream is clinically proven to leave your skin feeling younger in 14 days! Clinical tests at a leading American research laboratory measured statistically significant skin moisturization values after only 14 days of use. 100% of the test subjects agreed that Columbia Healing Cream left their skin looking and feeling hydrated, softer, smoother, younger, silky and more elastic after the 2 week trial.
About Columbia Skincare
Columbia Skincare is a division of The F. C. Sturtevant Company. Established in 1871, it is the oldest privately held skin care products developer and manufacturer in the United States. All of the Columbia brand products are manufactured right here in the United States, using the highest quality materials and most natural ingredients. Their products do not contain any fragrances or colorations, and are allergy tested to be safe for use. All Columbia brand products are suitable for use on even the most sensitive skin.
About Distinctive Assets
Distinctive Assets is a Los Angeles based niche marketing company offering celebrity placement, product introduction and branding opportunities within the entertainment industry.