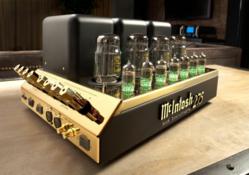 Fairfax, VA (PRWEB) April 17, 2012
Technology Expert Scott Steinberg recently spoke with NewsWatch about some of the best technology products of 2012. One of the products that really caught Scott's eye as being great for anyone that is a true audio connoisseur is the Limited EditionMcIntosh MC275 tube power amplifiers.
The 50th Anniversary Limited Edition McIntosh MC275 tube power amplifier combines modern convenience and performance enhancements without altering the sound character that has made the McIntosh Amplifiers so well known for the past 50 years. Like all McIntosh products it is hand-crafted in Binghamton, NY. Celebrating its 50th Anniversary, the amp features a gold-toned chassis, and the tube powered amp pays tribute to the original 1961 MC275 by combining modern technology with the smooth sound character of McIntosh products. The new model has several advanced features suited to today's listening trends - including a multi-colored LED display that indicates different performance readiness, as well as a new High Speed Sentry Monitor circuit that automatically turns the amp off if any tube wears out. With the new Limited Edition MC275, music enthusiasts and discerning consumers will be able to experience all the power, realism and emotional connection with their music made possible by an ultimate-quality McIntosh amp.
A very limited quantity of the special 50th Anniversary Limited Edition McIntoshMC275 have been created for only the most discerning of audio connoisseurs. Individuals who are fortunate enough to own this timeless amplifier are certainly amongst the most sophisticated audio enthusiasts globally. For more information, head to http://www.mcintoshlabs.com.
Hailed as a top voice for today's high-tech generation by dozens of publications from USA Today to Forbes and NPR, Scott Steinberg has covered the field for 400+ outlets from The New York Times to Entertainment Weekly and Wired. A frequent on-air technology analyst for major TV networks including ABC, CBS, FOX, NBC and CNN, Scott's also a bestselling author and creator of the The Modern Parent's Guide and Business Expert's Guidebook series. More than one billion people have turned to his columns and reports for insight into all things high-tech. He is the CEO of TechSavvy Global.
NewsWatch is a weekly 30-minute consumer oriented television show that airs nationwide. NewsWatch regularly feature top celebrities, health tips, technology products, medical breakthroughs and entertainment news on the show. The show airs in 190 markets nationwide as well as all of the top 20 broadcast markets in the country. For more information, head to http://newswatchtv.com/