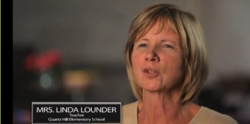 "I never win anything," Sue O'Connor said. "So it's so great that when I finally do, I get to share it with others."
(PRWEB) April 18, 2012
Beginning April 27, the school's lounge will undergo a free $7,500 facelift with assistance from local design professionals.
"I never win anything," O'Connor said. "So it's so great that when I finally do, I get to share it with others."
Lake Hiawatha Elementary was built in 1951 and serves approximately 400 students. A newer wing was later added, but the staff lounge is located in a classroom in the original structure. The lounge is where teachers meet and plan, take a quiet break or share a meal with colleagues. O'Connor said the room doesn't function well for the more than 75 teachers and other professionals who utilize it. "It would be great to have better seating," she said, "The institutional yellow is pretty tired, too. But we'll appreciate everything and anything California Casualty does for us."
California Casualty is a 98-year-old company providing auto and home insurance for educators and other public-service professionals. Recognizing the lifelong impact of teachers and the current financial strain on public schools, the company created the School Lounge Makeover contest. Each quarter, one randomly drawn winner will enjoy a major transformation of the one space teachers can go to rejuvenate and recharge.
School Lounge Makeover continues nationally through summer 2012, with next drawings slated for May 1 and August 1. Any NEA member is eligible and can enter once to be included in each quarter's drawing or until their school wins. All NEA members at the school may also enter, thus increasing their school chances of winning.
Complete rules and entry forms are at http://schoolloungemakeover.com.
Headquartered in San Mateo, CA, with Service Centers in Arizona, Colorado and Kansas, California Casualty provides auto and home insurance products to educators, law enforcement, fire fighters and nurses in 44 states. Learn more at http://www.calcas.com.