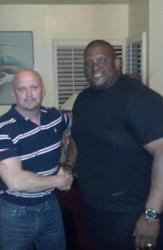 (PRWEB) April 16, 2012
Derek Kennard and Nate Newton, two former All Pro linemen for the Dallas Cowboys, are teaming up to raise awareness of sleep apnea and athletes' unique vulnerability to the condition during press conferences at the Renaissance Dallas Hotel April 26 at 2 p.m. and 5:30 p.m. Both events are open to the public.
Joining the former Cowboys are experts in the field, Dr. Harry Sugg, a local dentist who treats sleep apnea and David Gergen, who owns a dental lab in Phoenix. Gergen's Ortho lab fabricates sleep apnea dental devices that keep the airway open and allows someone with sleep apnea to breathe while sleeping.
Kennard suffered from sleep apnea and his brother died in his sleep in 2009 because of how the condition had deteriorated his cardiac wellness, a death that Kennard said could have been prevented.
Also speaking at the event are Randy Clare, the managing editor at Sleep Scholar and Elias Kalantzis, the managing partner of SleepTest.com.
Kalantzis said he agreed to participate to help promote the dangers of snoring and untreated sleep apnea. He founded his company in 2010, shortly after his brother died in his sleep for the same reason as Don Kennard.
Jineane Ford, a former Miss America will be in attendance, John Nadeau, the vice-president of Sleep Group Solutions, as will other former Dallas Cowboy greats to sign autographs along with Kennard and Newton.
The hotel is located at 2222 North Stemmons Freeway, Dallas.
###