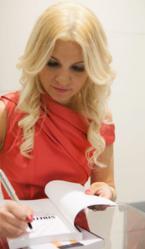 I wanted this book to change lives in some way.
Chicago, IL (PRWEB) April 18, 2012
Three years ago, Vivian Valtas Schmidt decided to write a book to help women realize their potential—even when life's ugly moments were staring them in the face. Her book, STILETTO 911, has succeeded in ways she never expected.
Last month, Karen Millen's downtown Chicago store hosted a signing event for Valtas Schmidt and her book, "Stiletto 911: The Makeover Manifesto". The author, a local entrepreneur, chose a local charity to reap all book proceeds from the evening—Vincent & Annabella's Garden.
The Chicago-based, non-profit organization helps families with children who are battling pediatric illnesses. The foundation was established by Jennifer and Freddie Villacci after they suffered two tragic losses. Their daughter, Annabella, died of a mitochondrial disorder at just six months old. Five years later, their son, Vincent, died of rhabdomyosarcoma, cancer of the muscles, at the age of seven.
The Villaccis were able to weather the financial storm of their children's medical bills, but realized that other families were not as fortunate. They founded Vincent & Annabella's Garden to honor their children and provide financial support to families who deal with serious illnesses in their children.
Valtas Schmidt, mother of a healthy young son, decided to put her book to use to build awareness for Vincent & Annabella's Garden. She asked people to donate money to the foundation and, in return, gave each donor a signed copy of her book—giving not just the proceeds, but every penny from the event to the Villacci's cause.
The "Stiletto 911" book signing at Karen Millen on 900 North Michigan welcomed 150 guests and raised approximately $4,000 for Vincent & Annabella's Garden.
"I wanted this book to change lives in some way," says Valtas Schmidt, who works with youth and serves on the board of the Valentine Boys and Girls Club of Chicago. "Whether it's the positive message of the story or the sale of the book itself, I'm just happy that my work can benefit our community."
Vivian Valtas Schmidt envisioned that her modern-day fable, "Stiletto 911: The Makeover Manifesto", would motivate women to make positive changes in their lives. An entrepreneur who started her first business enterprise at the age of seven (selling pumpkins), Valtas Schmidt puts her life lessons to work in the book. She has blended that knowledge with the lighthearted story of a young woman of privilege who suddenly finds herself without a fiscal safety net. With the help of a 21st century spirit, she tackles the challenge of restarting her life on her own, a journey that Valtas Schmidt can appreciate.
One of the top 50 restaurants in the U.S., Sunda provided an array of New Asian foods for the book signing. And Clarence, the bartender at Fred's in Barney's Chicago location who inspired a similar character in the book, was on hand to celebrate with Valtas Schmidt. For more information on "Stiletto 911", contact Vivian Valtas Schmidt at vivianvaltas(at)yahoo.com or call (312) 835-1908. To learn more about Vincent & Annabella's Garden, go to http://www.annabellasgarden.org
About Vivian Valtas Schmidt
Vivian Valtas Schmidt is an entrepreneur, philanthropist, and author. Never one to wallow in self-pity, Valtas Schmidt applied her experiences to strengthen her leadership and management skills, which she uses to train, motivate, and mentor up-and-coming professionals. She serves on the board of directors of the Valentine Boys and Girls Club in Chicago, and started the "Old Bikeman Award," which gives new bicycles to children in need each year. Valtas Schmidt graduated from Youngstown University with a degree in mathematics education, and has her master's from Fisher College of Business at The Ohio State University. She lives with her husband and son in Chicago. http://www.stiletto911.com
About Vincent & Annabella's Garden
Jennifer and Freddie Villacci lost two young children to pediatric diseases. At just six months old, Annabella died of a mitochondrial disorder that caused her to lose the ability to breathe. Her brother, Vincent, was diagnosed with cancer four years later and died at the age of seven and a half. His parents suffered tremendous emotional loss but were able to handle the financial burden of the medical expenses. They founded Vincent & Annabella's Garden to provide financial assistance for families dealing with pediatric illnesses. http://www.annabellasgarden.org