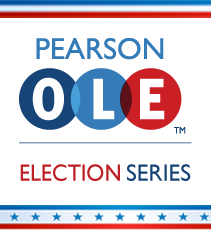 New York (PRWEB) April 17, 2012
Can rising gas prices derail the president's reelection campaign? What role does media coverage really play in elections? What are the candidates' positions on critical issues? Pearson's free Election Series blog found at OnlineLearningExchange.com addresses these campaign topics and more, providing complete, up-to-date learning resources and offering a forum for teachers and students across the nation to exchange information and share their views anytime/anywhere.
"With many school districts still facing severe budget shortfalls, teachers are on the prowl for high-quality, free online resources to help their students understand the importance of the election process," said Pearson's senior vice president Lynda Cloud. She noted that the Election Series blog includes a robust array of resources updated to follow events through the election and inauguration, including:

Articles: Pearson experts write and post new articles weekly on current events and issues leading up to the election, each accurately reflecting how these same trends have impacted our history as a nation. Current events are turned into valuable teaching opportunities.
Classroom activities: Ideas, activities, and entertainment tied to this year's presidential election.
Candidate profiles: Pictures, profiles, and links to social media outlets for all major candidates in the 2012 election.
Resources: Articles, images, videos, and interactivities from around the web as they relate to government policy, history, and current events.
Election Calendar: A reference guide to all the upcoming election events.
In addition, OnlineLearningExchange.com provides three free lesson plans for middle and high school teachers tied directly to the election. These lessons explore the topics of political roots and attitudes, evaluating leadership, and voting through animated movies, student-centered activities and in-depth classroom simulations.
Cloud said, "Online Learning Exchange's Election Series is capturing history in the making. We created this series for 6-12 grade teachers and students so they would have easy access to quality content on the 2012 election. The free material is simple and clear, helping students to better understand the processes and events that take place in our government as they relate to their lives today."
About Pearson and the Online Learning Exchange
Pearson has as its mission to work side-by-side with states, districts, teachers, students and parents to ensure that every child is prepared for college and career (NYSE: PSO). http://www.pearsoned.com.
In addition to the free Election Series materials, districts and schools can pay a fraction of the cost of printed textbooks to have full access to Pearson's OnlineLearningExchange.com, where K-12 teachers can create their own customized lessons and personalize classroom instruction to improve their students' learning. OLE, which supports any curriculum, brings together tools for teachers to aggregate their own content, quality third-party resources, and numerous digital assets from Pearson's research-based instructional materials — all tagged by subject, grade, and educational standard.
Contact:
kate.miller(at)pearson(dot)com
Follow hashtag #ElectionSeries on Twitter