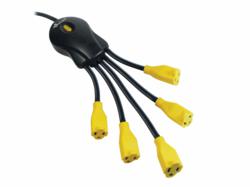 When surge protectors on the market today fail due to a power surge they will still function as an unprotected power strip, many times without the consumer even realizing that they have lost power surge protection.
Northport, NY (PRWEB) April 17, 2012
BITS Limited, a leading manufacturer of green surge protectors, introduces the True Surge® surge protector, the safest surge protector on the market today. Unlike other surge protectors, True Surge disconnects power to all devices in the event of a surge, and will completely cut off power once the protection is lost and the surge protector is considered "dead." This revolutionary True Surge technology helps protect electronic devices from permanent damage and prevents surge protectors from catching on fire – a proven and very real danger with most surge protectors.
"When surge protectors on the market today fail due to a power surge they will still function as an unprotected power strip, many times without the consumer even realizing that they have lost power surge protection," explained Russell Barton, President and Co-founder of BITS Limited. "This puts consumers' electronic equipment at risk of severe damage if another surge hits. Worse, most surge protectors are a proven fire hazard in very large surges, because the MOVs fail & start to burn before the internal fuse has a chance to blow. We at BITS Limited recognized the need for a safer, more reliable option for consumers in order to not only protect their equipment but also to protect their homes and families. As a result, we engineered the True Surge surge protector, where if there is no protection there is no connection."
True Surge is a revolutionary new design that includes several features new to surge protector technology. In addition to cutting the connection if the protector is blown, True Surge features a patented safety circuit and custom MOVs that are thermally coupled together for an ultra-fast reaction time. The entire circuit is cement-encased to completely prevent house fires that can occur with the current surge protector technology. True Surge surge protectors are the only surge protectors that can be legally daisy chained, and are the only surge protector technology to pass all UL/ETL tests in "remarkable condition."
The True Surge technology is currently available in BITS Limited's popular Power Squid model. The Power Squid's unique design gives the product the look of an actual squid, including five dangling arms. The design of the surge protector, specifically the flexible arms, helps eliminate the issue of not having enough space to accommodate today's various sized plugs and chargers —a common problem with typical power strip surge protectors.
True Surge technology will also be available in BITS Limited's flagship Smart Strip® surge protector in the second quarter of this year. The Smart Strip is the catalyst that brought about an entirely new class of smart, green technology products called "Advanced Power Strips." The green technology used within the surge protector limits waste and greatly decreases the level of standby power used by electronics that are plugged into it. This results in measurable energy savings and substantially lower electrical costs for consumers.
True Surge surge protectors and BITS Limited's entire line of green power products will be on display at the Green Products Expo on Tuesday April 17th, 2012 at the Marriot Marquis in New York City.
About BITS Limited
BITS Limited is the leading manufacturer of energy saving surge protectors that are ideal for use with all of today's advanced electronic devices. Known for creating environmentally friendly power solutions and a more sustainable future, BITS products are the safest surge protectors on the market while also markedly reducing electric consumption and helping devices achieve their optimal performance levels. BITS is a family owned and operated business founded in 2002, and has grown dramatically as the co-owners and brothers, Bruce and Russell Barton continue to revolutionize the surge protector market, designing safer and more efficient energy saving devices. BITS Limited is headquartered in Northport, NY, and maintains a warehouse and distribution center in Largo, Fl. For more information on BITS Limited, please visit http://www.bitsltd.net, or on Facebook: "SmartStrip" and on Twitter: @Bitsltd.