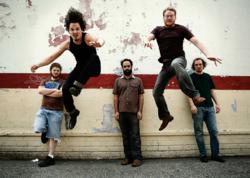 Cincinnati, OH (PRWEB) April 17, 2012
Brooklyn's twisted alternative country wranglers O'Death will make their return to Cincinnati on June 7. O'Death have a reverently twisted take on Americana, filtering it through a wealth of musical influences as divergent as folk, bluegrass, punk, & metal.
General Admission tickets, $10 ADV & $13 DOS (plus applicable fees), go on sale Friday April 27 at 10 AM at http://www.ticketmaster.com, http://www.tafttheatre.org, the Taft Theatre Box Office and all Ticketmaster outlets including select Kroger stores. Charge by phone at 1.800.745.3000.
In late July of 2010, New York quintet O'Death -Singer/guitarist Greg Jamie, Gabe Darling on banjo and ukulele, drummer David Rogers-Berry, bassist Jesse Newman, and violinist Robert Pycior — returned to the stage after a year-long hiatus to play a critically-acclaimed set at the Newport Folk Festival. In many ways it was the perfect start to a new era in the band's existence, and a logical precursor to their upcoming third LP. O'Death return to Ernest Jenning Record Co. for Outside, set for release April 19th.
After endless touring on the rollicking one-two punch of their debut Head Home (Ernest Jenning Record Co.) and sophomore barnburner Broken Hymns, Limbs and Skin (Kemado), the band was sidelined in the midst of their 2009 tour when Rogers-Berry was diagnosed with Osteosarcoma. Ten months of chemotherapy and a shoulder replacement later, the group returned to the studio with a new outlook on life, and began work on their most fully conceived project to date — an affirmation of sorts. With the help of producer/engineer Billy Pavone (The Fall, Asobi Seksu, White Rabbits), the result is a record that is both the most subtle and massive accomplishment of the band's career. Outside is a darkly triumphant and free-flowing album that represents exactly where the songwriters have found themselves in this moment. As Pycior notes, "I love the dynamic disparity in the album: the fragile parts of 'Bugs,' 'Ourselves,' and 'Don't Come Back…,' the huge endings in 'Alamar,' 'Look at the Sun,' and 'Pushing Out.' …and I love ending on a different and demented tone with 'The Lake Departed.'"