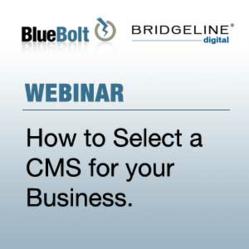 Even free content management systems aren't really free when you start talking about all the features people typically want. Budget and timelines are hugely impacted by the amount of work involved in customization and integration with other online systems
Chicago, IL (PRWEB) April 18, 2012
BlueBolt Solutions is hosting a free webinar titled, "How to Select a CMS for your Business" on Thursday, April 19, 2012 at 12pm CST with Bridgeline Digital. The purpose of the webinar is to help educate website decision makers in the process of selecting a Web Content Management System (CMS).
A CMS is website software that allows non-technical users to edit content on a website. The selection of the right CMS for a company is a critical decision, as a good CMS improves productivity and a company's ability to have an up-to-date, engaging website.
Deciding on a CMS can be an overwhelming task, as there are thousands of CMSs currently available on the marketplace. CMS costs range from free to hundreds of thousands of dollars, and pricing can be based off of number of domain names, number of portals, or number of server requests. Additionally, they are written with all different coding languages, often requiring different hosting equipment.
David Risner, one of BlueBolt Solutions' founding partners will simplify these issues and guide webinar attendees through the major questions a business must ask itself when selecting a CMS. BlueBolt Solutions is an interactive web development agency in Chicago, building websites since 2005. They have worked with a host of clients on all different types of websites. David Risner has walked hundreds of clients through the CMS selection process, making him uniquely qualified to provide advice on this topic.
David Risner explains, "Even free content management systems aren't really free when you start talking about all the features people typically want. Budget and timelines are hugely impacted by the amount of work involved in customization and integration with other online systems".
David Maffei, SVP of Business Development at Bridgeline Digital, is scheduled to provide a quick demonstration of the iAPPS web experience management system to display some of the features offered in a premium CMS solution.
The "How to Select a CMS for your Business" webinar is scheduled for Thursday, April 19th at 12pm CST. Registration is free.
About BlueBolt Solutions
BlueBolt Solutions is an interactive web development agency focused on client empowerment. Founded in 2005, BlueBolt has served hundreds of clients in a host of different ways. They are a functionality and technology centric agency, committed to providing clients three things: a solution that elegantly meets the client's business needs, a solution that can be intuitively managed by the client, and fair and accurate project scoping.
About Bridgeline Digital
Bridgeline Digital is developer of the award-winning iAPPS® Web Experience Management (WEM) product suite and interactive technology solutions that help organizations optimize business processes. Bridgeline's iAPPS product suite, combined with its interactive development capabilities, assists customers in maximizing revenue, improving customer service and loyalty, enhancing employee knowledge, and reducing operational costs by leveraging web-based technologies.
The iAPPS product suite provides solutions that deeply integrate Web Content Management, eCommerce, eMarketing, and web Analytics capabilities within the mission critical websites, on-line stores, intranets, extranets, or portals in which they reside, and enable business users to enhance and optimize the value of their web properties. Combined with award-winning interactive development capabilities, Bridgeline helps customers cost-effectively accommodate the changing needs of today's rapidly evolving web properties.