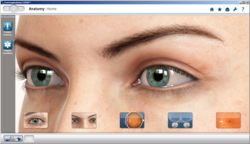 ... the earlier the diagnosis is made, the earlier the treatment can begin and the higher the success rate will be. Educating patients with the new LUMA dry eye content helps to facilitate this process."
- Dr. Paul Karpecki
Baltimore, MD (PRWEB) April 18, 2012
Eyemaginations, Inc. is pleased to announce the launch of new patient education on the diagnosis and monitoring of dry eye disease (DED). To be unveiled at the ASCRS annual meeting, this new content showcases tear osmolarity testing for the diagnosis of dry eye disease.
"It has been reported that 30 million people in the U.S. alone are affected by dry eye but many do not seek treatment," said Jeff Peres, president and CEO of Eyemaginations. "We are excited to add new dry eye educational videos to our LUMA software, as increasing education will promote patient awareness and better understanding about what has historically been an under-diagnosed condition."
Dr. Paul M. Karpecki, Clinical Director of Corneal Services and Ocular Disease Research for Koffler Vision Group in Lexington, KY, is one of the top dry eye experts in the country. He uses Eyemaginations LUMA as a tool to educate his patients and increase awareness. "Treating dry eye usually involves a regimented approach that is tailored for each patient," commented Dr. Karpecki. "However, the earlier the diagnosis is made, the earlier the treatment can begin and the higher the success rate will be. Educating patients with the new LUMA dry eye content helps to facilitate this process."
Eyemaginations indicates that the new content will be available in its upcoming software release for LUMA and on all other product platforms shortly thereafter. Interested practices can receive a demonstration at the 2012 American Society of Cataract and Refractive Surgery Annual Meeting (ASCRS) in Chicago between April 20 and 24, at booth #319.
Information about LUMA v1.9 can be found by calling Eyemaginations at 877.321.5481, emailing info@eyemaginations.com or by visiting http://www.eyemaginations.com.
About Eyemaginations
Eyemaginations, Inc. is a healthcare media company focused on solutions that support professionals, patients and corporations in communicating and understanding complex topics. The company's in-depth experience with animation, design and software has enabled Eyemaginations to create integrated systems that provide clear and concise education solutions. Eyemaginations has a portfolio of products that are focused on eyecare, ENT, audiology and facial aesthetics. Eyemaginations may be reached by phone at 1-877-321-5481, email at info@eyemaginations.com or online at http://www.eyemaginations.com.