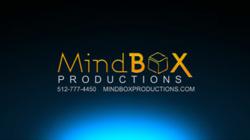 MindBOX Productions has added a new, state-of-the-art camera, the Sony PMW-F3, to its lineup of professional production equipment
Austin, TX (PRWEB) April 17, 2012
Video production leader MindBOX Productions has added a new, state-of-the-art camera, the Sony PMW-F3, to its lineup of professional production equipment. The camera features the latest video technology to ensure the images it produces are the best available. MindBOX video production company added the new equipment to ensure that it continues to provide its clients with the superior quality video products and crystal clear images for which MindBOX has become known.
The Sony PMW-F3 features a newly developed image sensor, offering creative shooting options like shallow depth of field, similar to features offered by film cameras. The camera's high sensitivity also allows for shooting in low-light and ambient light settings. Slow and quick motion functions enable the creation of unique effects using slow- and fast-motion images. In addition to a greater ease of workflow, the PMW-F3 also features a superior uncompressed 10-bit RGB 4:4:4 1080p S-log image, which means clients receive the clearest, sharpest video images available.
Serving Fortune 500 companies and other clients throughout the Austin, Dallas, Houston and San Antonio markets, MindBOX Productions is a full-service media production company specializing in world-class video production services for corporate clients and others seeking the most up-to-date, cutting-edge technology and equipment. MindBOX production specialists are highly trained professionals with experience shooting a wide variety of videos in a broad range of environments, creating unique and memorable end products on-time and within budget. Their team of experts can develop your existing idea or create a new, powerful concept to produce custom results that will help clearly define your brand image or corporate message.
MindBOX prides itself on excellent customer service, and offers a wide range of multimedia solutions to meet every client's needs, including web video marketing, video testimonials, corporate video, television commercials and video editing. In addition to major corporate clients, MindBOX also serves smaller companies and individuals who want to create a long-lasting impact with a creative product launch, website or commercial, and its team of experts is positioned to help companies of any size learn how to use video production to increase sales and attract customers. Because video production is constantly changing, MindBOX strives to add new equipment and new techniques to ensure every production is fresh and innovative. Their willingness to embrace new technology results in better products AND lower prices for customers.
Located in the heart of Austin, MindBOX Productions can be reached through its "request a quote" form at their website, http://www.mindboxproductions.com, or by phone at (800) 459-3320. Their professional consultants are available to meet with clients of all sizes, and from all types of businesses, to create a new and innovative concept that will help clients develop or strengthen their own unique brand image. Press release by MindBOX SEO - Austin, TX