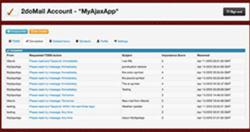 2doMail is social Email setup like a to-do list; It is a refreshingly new approach to Email where it gives control to the account owner and turns Emails into a to-do list.
Montreal, Quebec (PRWEB) April 19, 2012
The amount of work Email generates can be overwhelming. To process traditional email, one would need to start at the beginning of the inbox and simply work through it item by item. If there are unimportant Emails in this list, processing them can be time consuming, yet unproductive. 2doMail.com is the perfect solution for businesses and people who want to prioritize the work generated by messages from other people.
2doMail is about the action the sender wants the receiver to-do. The receiver controls what actions the sender can put in their to-do list; Actions are given a score based on the importance of the action and when the sender wants the action to be done. As messages are received in 2doMail, an algorithm calculates this importance score and presents the to-do list according to this score. Processing the to-do list in this way increases productivity and usefulness of the messages sent.
2doMail eliminates the need for a traditional email address in that to receive messages, account holders place a 2doMail button on their website. When website viewers wish to contact account holders they simply click the button, sign into the service and send a message. 2doMail account holders each have a public profile, where they can post as much or as little information about themselves as they want for other account holders to view, and to directly send messages to one another.
MyAjaxApp developed this web service when Paul Graham, from investment company Y Combinator, put forth a challenge in an essay with a list of seven frighteningly ambitious start-up ideas. Jerry Visser, owner of MyAjaxApp.com was looking for a web service to build as a test of his Ajax database-as-a-service and as an example for MyAjaxApp users. When he saw "Replace Email" on Paul Graham's list, he realized how easy it would be to build this idea with MyAjaxApp; He took on the challenge and came up with 2doMail.
Jerry created 2doMail in just 1 week at MyAjaxApp. The cost to create this dynamic Ajax web service was 47$ for the website domain as well as the cost of the server. 2doMail was built using MyAjaxApp, Twitter Bootstrap and is distributed on Amazon CloudFront. Jerry states, "2doMail is an excellent example of what can be created with MyAjaxApp, and is an excellent alternative to traditional email."
MyAjaxApp.com is a new company based in Montreal Canada, with their premier product, AjaxDB, conceived and in development since 2005. MyAjaxApp.com was founded by Jerry Visser, who graduated from British Columbia Institute of Technology where he studied Electrical and Computer Engineering. Since 2004, Jerry has been creating enterprise data-driven solutions in Canada.