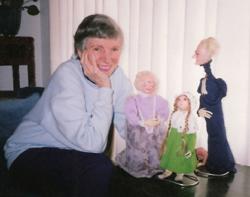 I still buy green bananas.
Dana Point, CA (PRWEB) April 18, 2012
89 year-old Edgar Award-winning author, Barbara "Bobbie" Brooks Wallace, finds her fountain of youth in her newly-published novel, "Diary of a Little Devil," in which she channels her 10 year-old alter ego, Anderson "Andy" Wardel. "Diary" introduces a new generation of young book readers to the unique and simpatico voice of ever youthful and witty writer Bobbie Wallace.
Although there is a 79 year-age gap between Andy, the heroine in "Diary of a Little Devil" and Bobbie, the author, they share a keen point-of-view and the wisdom of their ages. When asked how she conjures up novels, Bobbie says, "I still remember clearly the feelings I had when I was a little girl. Those feelings never went away. Happily, I've been able to translate them into the books I've written and share them with a whole new generation of readers."
"When we first met Bobbie, we were awestruck by her vitality and joie de vivre," said John Besmehn, a director at PANGEA, the publisher of "Diary of a Little Devil." "Bobbie's writing has a fresh modern voice that connects for all ages," Besmehn noted.
"Diary" journals a year in the life of Andy Wardel, a precocious 10-year old, living a privileged expat childhood in 1930's China until a death in her family occurs. She experiences crises of love and jealousy and the mixed blessings of a new sibling. Diary entries reveal the changes in Andy's life and the impact of those changes as she develops and grows in maturity. The book rivets readers with a heroine wise in character and life experiences, but still just 10 years-old. Andy's a little girl all grown-up. And author Bobbie Wallace is the spirit of Andy.
Bobbie's works have been turned into animation, musicals and award-winning books. "Children and younger teens relate to the tone of her characters because they resonate with and can echo the voices they hear in her stories," reviews Dave Paltin, PhD, Psychologist of Child Development Institute, Parenting Today.
"Diary of a Little Devil" is the first title in a series of Bobbie's works to be released by PANGEA, the creative development entity and publisher. http://www.PangeaCorp.com
"Diary of a Little Devil" is now available on Kindle and in paperback.
Company Information:
PANGEA Corporation is a creative salon established in 1986 that specializes in children's entertainment, animation, publishing and toy development. Located in Dana Point, CA, PANGEA has developed content for premier intellectual properties, including Teenage Mutant Ninja Turtles," "Zorro," "Speed Racer," and "Barbie." They have produced and published original content for multimedia and books, ranging from the teen fiction thriller, "Why Begins With W" to the award-winning interactive DVD, "Yoga Divas."
Contact: Cheryl Ann Wong
warbaby (at) PangeaCorp (dot) com
949-443-0666