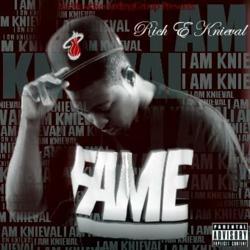 Miami, FL (PRWEB) April 18, 2012
Rap artist Rich-E-Knieval recently released his mixtape "I Am Knieval." Coast 2 Coast Mixtapes presents the project along with Jus Music Recording Group. It is now available for free download. "I Am Knieval" features production by Qwon Don Beats and Hunnit Beats.
Richard "Rich-E-Knieval" Gelin is the youngest of six children, born on July, 15, 1987 in Ft. Lauderdale, FL. Born of the Haitian descent, Rich-E always had music running through his veins. As a child he always had a way with words, whether it was through his studies in school or at home in everyday life. In his early years he developed a love for hip hop, and at the age of fourteen he began expressing his inner talents through rap.
Inspired by many artists, Rich-E says that he is motivation comes from Tupac, Nas, Talib Kweli, Jay-Z, Jeezy, Kanye, and every other MC and entrepreneur that is out there making a difference. When it comes to style, Rich-E is creating a whole new lane with his lyrics and originality. While he is a southern MC with a hustler mentality, he sets himself apart from the rest with his subject matter and flow.
Rich-E uses his wit and word play to deliver relatable and real messages in a fresh and unique way. Knieval uses his personal experiences with the streets and political stresses in our society to paint a lyrical picture for people to embrace. He is on a journey to blaze his own path in the music industry. Knieval is the first artist signed to the rising label trademarked as Jus Music Recording Group. His love for rap goes beyond just his music, so in 2010 he co-founded J.M.R.G with three others and they have been working diligently in preparation to expose the world to a whole new level of music. As CEO of J.M.R.G., Rich-E Plans to expand the label and create an avenue for production, directing, and acting. He believes in creating opportunities for others to grace the world with their talents.
Rich-E-Knieval is the stunt man, therefore it is in his nature to go hard for his dreams. He isn't afraid to take risks in order to push open doors for himself and others. His ambitions will prove his worthiness in the game, while his lyrics will inspire others to hustle hard for what they want in life. Rich-E-Knieval is a voice of strength, loyalty, and dedication. He is on a mission to success and strives to reach the pinnacle of all his goals and aspirations.
"I Am Knieval" is available for free streaming and download at http://coast2coastmixtapes.com/mixtapes/mixtapedetail.aspx/coolchip-rich-e-knieval