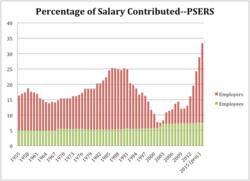 It would be shortsighted indeed to ignore the projections that the fund will run dry before or during the retirements of employees who are currently contributing to PSERS will the expectation that it will meet their retirement needs.
Doylestown, PA (PRWEB) April 17, 2012
Lately there has been much discussion of a "crisis" in public pensions. Unfortunately, most of the pontification on this issue is colored by the political agenda of the pundits making it; these commentators are more concerned with scoring points than dispassionately viewing the strengths and shortfalls of the pension funds. While each state is unique, the structure and problems of their public pension systems for the most part are similar: investment returns are not keeping up with rising benefit payments, and dramatically increased contributions from the state and local governments and school boards will be required to maintain the system. In this article, I would like to dispel a few myths regarding public pensions, using the Pennsylvania Public School Employees Retirement Fund (PSERS) as representative of a typical public pension fund.
Myth 1: Public pension systems are about to run out of money
While some problems may exist at a few municipalities, the vast majority of public pension systems currently hold significant assets. At the end of fiscal year 2009 (the most recent aggregated data), the US Census Bureau estimated the value of the pension funds of state and local public employee retirement systems at just under $2.5 trillion. As for the Pennsylvania teacher's plan specifically, the PSERS fund held $47.6 billion in assets at the end of 2012. Since current benefit payments amount to about $6 billion annually, the fund is in no danger of not being able to pay its pensioners for many years. But just because a problem is not immediate does not mean it cannot be predicted. It would be shortsighted indeed to ignore the projections that the fund will run dry before or during the retirements of employees who are currently contributing to PSERS will the expectation that it will meet their retirement needs.
Myth 2: A few good years in a bull market will bring the fund back to health.
In the three years since the end of 2008, the S&P 500 index rose from 903 to 1258, a 39% increase. However, in the same period, the PSERS fund only grew from $45.4 billion to $47.6 billion, a gain of only 4.8%. Because benefit payments exceed contributions by $3 billion per year, a large portion of gains in asset prices were used to meet current obligations. And while the fund did grow by $2.2 billion from 2008 to 2011, its projected benefit obligation increased by over $10 billion during the same time period. If the PSERS fund falls behind during stock market rallies, there seems little hope that its fortunes will improve simply through market performance.
Myth 3: Since the states are going to dramatically increase their contributions over the next few years, this should take care of the underfunding problem, as happened in the 1980's.
The PSERS did respond to projected shortfalls in the 1980's by ramping up the employer's contribution rate. As you can see in the following chart, the combined employer/employee contributions amounted to roughly 25% of payroll from 1985 to 1991.
This bumped up contribution rate, combined with high interest rates and a bull market in equities, allowed the fund to catch up to its obligations twenty years ago. Today, however, even the projected increases shown in the chart (over 30% of payroll by 2017) will only keep pace with the estimated rise in benefit payments. In a low interest rate environment, pension funds face the same problem as savers in general: generating sufficient cash flow from their investments to meet their income needs. Presently, interest, dividends, and rents only meet about 20% of PSERS's cash needs every year. Benefit payments will continue to exceed the sum of these earnings plus contributions even with the sizeable increase in employer contributions.
The Fact
Which leads us to a cold hard fact: the fix which worked in the past is unlikely to succeed in the future. Putting public pension systems on firm footing is going to require significant and unpopular changes to current policy.
Greg Mallison is an LPL financial advisor at Doylestown Wealth Management and can be reached at http://www.dwmwealth.com.
The opinions voiced in this material are for general information only and are not intended to provide specific advice or recommendations for any individual. To determine which investment(s) may be appropriate for you, consult your financial advisor prior to investing. All performance referenced is historical and is no guarantee of future results. All indices are unmanaged and cannot be invested into directly.
Securities offered through LPL Financial. Member FINRA/SIPC. The opinions expressed in this article do not reflect those of LPL Financial.