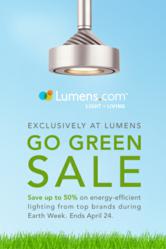 Sacramento, CA (PRWEB) April 17, 2012
Lumens.com announces its Go Green Lighting Sale for Earth Week, where customers can save up to 50% off list prices on energy-efficient contemporary lighting from top brands. Desk lamps, ceiling lights and more available with eco-friendly LED or company fluorescent lamping are highlighting in the sale, with savings anywhere from 20 to 50% off list prices from brands like Forecast, Koncept, Humanscale, Molto Luce and more. This exclusive sale runs through April 24, 2012.
Discounts found in the Go Green Lighting Sale at Lumens.com include:
Forecast and Philips: Customers can save 50% off list prices on energy-efficient lighting from brands Forecast and Philips. These select products include contemporary LED pendants, portable LED outdoor lamps, and Philips' Kidsplace and Ecomoods collections.
Humanscale: Known for its line of ergonomic office solutions, Humanscale also offers a collection of LED desk lamps designed to be equally high performing and technologically sophisticated. Customer can save 15% off list prices on all Humanscale products during the Go Green Lighting Sale at Lumens.com.
Koncept: Sleek, bright, contemporary and energy efficient best describe the product line offered by Koncept, who transforms the standard desk lamp into modern and technologically savvy fixtures. Customers can save an additional 20% off Lumens' retail prices on Koncept's Gen 3 collection during the sale.
QisDesign: This young company from Taiwan aims to push the world of LED lighting into fast forward, with outside-the-box production techniques and sophisticated modern designs. Customers can save 20% off list prices on lighting by QisDesign during this exclusive offer.
In addition to the items featured in the Go Green Lighting Sale, Lumens.com offers a vast selection of eco-friendly lighting, from products with energy-efficient lamping, to those made from sustainably harvested materials and even those that are packed and shipped flat to reduce waste and energy.
The Go Green Lighting Sale at Lumens.com also includes discounts on select ceiling lights, wall lights, floor lamps and table lamps.
In addition to these discounts, Lumens.com also offers:
-Free shipping on orders of $50 or more (exclusions do apply)
-Low-price guarantee
-Expert service via our customer service center
-Easy, no-hassle returns
-Volume order discounts
-More than 300 manufacturers from all over the globe, offering everything from contemporary lighting to transitional fixtures and modern furnishings, gifts and home accessories.
For additional information on exclusive offers and this contemporary lighting sale during the Lumens.com Go Green Sale, contact Sarah Schaale or visit lumens.com.
About Lumens Light + Living:
Lumens Light + Living is dedicated to offering the very best of design-oriented lighting, fans and home accessories, from the most contemporary international designs to modern interpretations of classic design.
Contact:
Sarah Schaale, Marketing Program Manager
Lumens Light + Living
916-444-5885
http://www.lumens.com
# # #