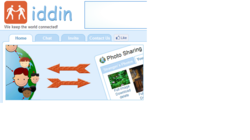 Cambridge, MA (PRWEB) April 17, 2012
Hobbyists flock to the Internet on a frequent basis. Everyday, they are searching for new hobbies to conquer or some tips that can really help them improve their craft. Others are looking for buddies that are also in line with a specific hobby. Iddin Live is full of hobbyists lately. This clearly states that IM chat matters a lot for everyone, and general topics can really be discussed.
Iddin Live is a web chat application operating on a simple, yet speedy platform. This application is under the niche of random chat. It is evident that random chat has been around for quite some time already. This is because of the fact that people are more inclined to engage in spontaneous chats and thrilling chat moments. The idea of not knowing too much about the stranger is something that excites a lot of people.
Iddin is the cradle of many topics under the sun. According to a study, there are more than one hundred thousand Iddin users every day. This proves that Iddin can handle many chatrooms at the same time. In every chatroom, there is always a random topic. Hobbies are definitely one of them. If the hobbyist finds a stranger that is under the same niche with him, they will chat for a long time. If not, the other stranger may disconnect and look for another person to chat with. This is common in chat sites with random chatting engine—connection and disconnection are frequent phases.
Many people chat online using Iddin Live because of the connectivity that it can offer. To use the Iddin application, anyone can specify a country where the stranger will come from. To speed up the search, the user can go for the 'Anybody' option. This prompts the application to scour the world for any user. It will zero in to the first user that it can find, regardless of the country, gender, or race. There are no known barriers as long as people can chat happily.
About Iddin
Iddin is a free web application that specializes in generating random chat with strangers. Users can choose the locations of the strangers, or they can have the engine to search the whole world. Random chat is encouraged to protect the identity of people and also to empower spontaneous connection that is fun and interesting. Users can visit http://www.iddin.com to discover its features.