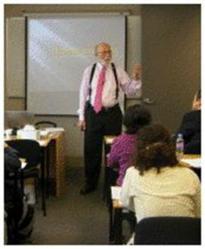 During braindriving, sensors are placed on the scalp to monitor brainwaves in real time.
(PRWEB) April 17, 2012
According to a recent study released by the CDC, it is estimated that 1 in 88 American children has some form of autism spectrum disorder. Though the causes of autism are unknown, it is widely understood that early diagnosis and treatment can significantly improve the quality of life of the child and family.
Psychologist and author Dr. Paul G. Swingle uses neurotherapy to treat clients with autism in his practice in Vancouver. When asked about his approach, he replied, "We begin with the ClinicalQ assessment in which we can detect anomalies in brain activity – some of which are found in autism. Slow frequency in the back of the brain and an imbalance between the right and left frontal cortex, for example, are commonly found in children with autism."
"Once the assessment is complete, the treatment, including braindriving can begin. During braindriving, sensors are placed on the scalp to monitor brainwaves in real time. Harmonics we developed specifically for braindriving are used to change brain activity driving the brain functioning to more balanced and normal ranges. Unlike traditional neurofeedback (brainwave biofeedback), which requires a certain level of cognitive ability, braindriving can be used with clients as young as four months of age in addition to clients who cannot participate in more volitional neurofeedback programs."
Words From a Mom Whose Child Was Treated
Arlene Martell wrote about the neurotherapy her son Adam received as part of his treatment for Asperger's and epilepsy in her book "Getting Adam Back". In it she states, "It is hard to put into words the gratitude I have for what Dr. Swingle has done for my son. Already as a family, our life was greatly impacted as we tried to cope with a child who was extremely obsessive compulsive, did not have the ability to reason or understand consequences and had terrible seizures, learning disabilities, behavior problems and no impulse control. Every parent wants what is best for their child but when a treatment I had not heard of comes along after so many others have failed, including 6 medications, while continuing to watch your child deteriorate – it is hard to keep faith. Dr. Swingle did more than give me hope – he healed my son, giving him a new chance at life. "
ClinicalQ and Braindriving
Vancouver, Canada – May 4-6, 2012
Dr. Swingle's will be presenting an upcoming workshop on "ClinicalQ and Braindriving: Fundamental Neurotherapy for Professionals" in which he will introduce the methods used in his practice. Participants learn how to record the ClinicalQ and to interpret the results. Methods for probing the client based on comparisons with the ClinicalQ clinical data base are reviewed and many cases are studied to help participants learn how to capably use this intake procedure. The details associated with selecting appropriate unconditioned stimuli for braindriving are reviewed and the methods for administering basic Braindryvr protocols are shown.
Dr. Swingle's 2012 Webinar Series
Interested healthcare professionals are invited to learn more about the ClinicalQ and Braindriving by attending one of Dr. Swingle's online webinars. The 2012 series will cover a variety of topics ranging from depression and mood disorders to sleep disorders and chronic fatigue. One webinar will focus on treating emotional difficulties in children and another will focus on optimal performance training.
About the BFE
The BFE-LFB program provides continuing education via conferences, seminars, workshops, internet courses, and software for professionals around the world. Content is developed independently by International Research & Education Project teams. Financial support comes from the Biofeedback Federation CIC, a non-profit Community Interest Corporation located in the UK. For more information, visit the BFE Online Shop. The next BFE Annual Conference, which includes a workshop with Dr. Swingle, is scheduled to take place September 11-15, 2012 in Rzeszów, Poland.
Contact:
Carol Meyers
BFE Education Manager
http://www.bfe.org
###