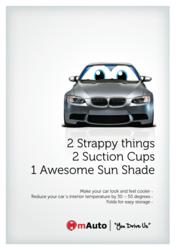 when people pass by my car with this sun shield they say to themselves I bet that's a badass dude
Biscayne Blvd, Florida (PRWEB) April 17, 2012
Edgy online retailer mAuto Store has announced the long-awaited release of its exclusive Eyes Sun Shades. The latest trend that is all the rage in car accessories retail comes as a shock – its car sun shades. It's not the latest smartphone but perfectly intelligent people are lining up around the virtual corner to get their hands on one, with several pre-sold ahead of the scheduled launch on April 17, 2012.
What is so unexpected is the sheer excitement these car sun shades have created. One enthusiastic customer told mAuto Store, "...when people pass by my car with this sun shield they say to themselves I bet that's a badass dude".
An impressed customer reached out to the startup, even vowing to drive with his car sun shade inside his windshield. Of course neither the retailer nor the manufacturer recommends this use of the car sun shade, but in an age when everything is high-tech, this no-tech car accessory will soon be popping up everywhere.
With an online presence that is sure to reap even greater results, the company is sure to build on its staggering growth of 80% monthly. Besides its home page, mAuto Store can be found on Facebook, Twitter, Blogs, reaching out to its clients through any form of social media. It seems mAuto Store prefers a more personal approach rather than some computer-generated response to customers' queries.
This first installment in the form of the Eyes Car Sun Shades video is just the tip of the iceberg that is mAuto Store's daring marketing plan. So far everything is hush-hush regarding the remainder of the company's video launches set for release throughout the year, except that they will feature the company's main product lines as they have never been seen before.
This is not the boring tale an average start-up doing what all others have done before; this is the unusual story of a funky little start-up that is intent on doing everything differently. With humble beginnings not long ago as a few boxes of merchandise in a bedroom, mAuto now boasts two offices and a warehouse.
With all that has been overlooked in the world of car accessories, this company could well be ahead of its time. An innovator in the online car accessories industry, mAuto Store had the vision to design and unleash these new car sun shades. They practically market themselves because people have fallen in love with them. Perhaps this company has discovered the secret to what people are searching for - the next best thing to fall in love with.
Boilerplate: Lester Mapp is CEO and Founder of mAuto Store, an online automotive accessories retailer and manufacturer based in Biscayne, Florida. The company offers a unique online shopping experience for customers. For more information visit http://www.mautostore.com