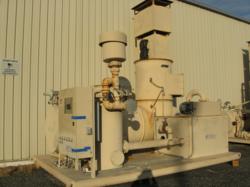 We've been recycling equipment for years in the Southeast, and now we're taking the program nationwide
Charlotte, NC (PRWEB) April 17, 2012
Enviro-Equipment Inc., an industry leader in renting, selling and manufacturing environmental remediation equipment, has launched its environmental remediation systems and equipment decommissioning service nationwide.
As a result of this expansion, large industrial sites and military bases across the US can have their remediation systems safely and effectively decommissioned and removed at little to no cost by Enviro-Equipment Inc.'s trained experts.
Furthermore, Enviro-Equipment Inc. will refurbish any useable equipment to build used remediation systems per customer specifications. This gives customers the opportunity to save more than 50% over the cost of a new remediation system, and it's also an environmentally responsible solution as well.
"I consider repurposing used remediation equipment as a form of conservation, because we recycle used and unwanted equipment that would otherwise end up in a landfill," commented Brian E. Chew, Vice President of Enviro-Equipment Inc. "Plus, with raw material and manufacturing costs continuing to rise, we're able to build used remediation systems out of useable equipment that would otherwise gather dust and rust in back lots. And the used remediation systems that we create are designed to last 10-20 more years if maintained properly, which is welcome news to their new owners."
Decommissioning involves disconnecting all power lines and abandoning the groundwater wells. Enviro-Equipment Inc. sends out its team of experienced and licensed electricians and environmental technicians to take care of all of the work, and oversee the task of shipping the used equipment back to the company's North Carolina facility.
"We've been recycling equipment for years in the Southeast, and now we're taking the program nationwide," added Chew. "And so far, the response and results have been very positive. For example, a military base in Nevada was facing a hefty $20,000-$30,000 bill to remove their used thermal oxidizers. They contacted us, and we were able to expertly haul them away at no cost. It was a win for the military base, a win for us, a win for our future customer who will save more than 50% on a used remediation system, and a win for our environment. You really can't ask for a program to do more than that!"
For more information or media inquiries, contact Brian Chew at brianchew(at)enviroequipment(dot)com or 704-556-7723.
About Enviro-Equipment, Inc.
Enviro-Equipment, Inc., a woman-owned small business founded in 1993, rents and sells environmental equipment used for pollution control, groundwater remediation, water and wastewater treatment, safety and industrial hygiene, and environmental assessment. The company's Charlotte, NC facility also offers environmental monitoring instruments, field sampling supplies, safety products, equipment repair, and training. Enviro-Equipment's customers include colleges and universities, government agencies, industry, and environmental consultants in the groundwater hydrology and industrial hygiene fields in North America. Learn more at http://www.enviroequipment.com.