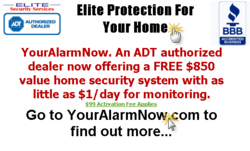 Instant Installation Service Facility for Home Security Systems Introduced by Elite Security Services for No Additional Expense
(PRWEB) April 17, 2012
Elite Security Services has just announced another excellent additional benefit scheme for their home security systems users in Canada and the United States. This offer entails the customers of the company to avail installation service for their systems within 24 hours of purchase for no additional cost. The company has a flat installation charge of $99.00 for all their security systems. By paying this amount, the customers can now request for instant installation of their security package. It must be mentioned here that Elite Security Services provides extremely high standard of domestic surveillance service within lucrative price range. The company has been operating in the industry for almost a year.
The quality and promptness of installation is one of the key factors to look at before the selection of a home security systems provider. Many companies take a painfully long time to install their systems. The introduction of the next day installation service from Elite Security Services is a significant step for the company because this will definitely provide them an edge over their competitors in the industry. The company is already known for their excellent quality of installation that takes proper care of the interior of the house. Elite Security Services boasts of some of the most skillful installation technicians in the entire United States.
Immediately after the official launch of this instant installation offer, the founder of Elite Security Services Mr. Paul Shakuri said, "We have been able to build a solid service network throughout the United States and Canada. Therefore, now we are equipped to provide you instant installation service" He is a well acclaimed home security systems expert based out of Arizona and has been highly instrumental in the meteoric emergence of his company in the industry.
About the Company: Elite Security Services is a rapidly growing company in the home security industry. They offer highly efficient and economical home security solutions in America and Canada.
Contact
Paul Shakuri
Phone: 800-880-9569.
Website: http://www.YourAlarmNow.com