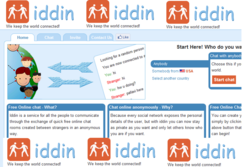 Cambridge, MA (PRWEB) April 18, 2012
Chatrooms have been around for quite some time already. They are avenues of communication and everyday, many people are using them. Because of this, random chatting has been introduced to the World Wide Web. Many people love to chat online randomly because their identities are preserved. When it comes to random chatting, Iddin Live definitely stands out from the crowd. This application has been used constantly by chatters all over the world.
Iddin may appear simple for many people, but it is actually a powerful chat engine that covers any possible location globally. It has simple mechanics and the need to download anything has been eliminated. According to a study, there are thousands of online Iddin users everyday. This clearly proves that Iddin can handle numerous chatrooms at the same time. Other chatrooms have been doing this already, but their connection speed suffered drastically.
Iddin does not encourage its chatters to give out personal information, but it is still a choice. Chatters can upload their pictures or share information through chat. It has been proven that people are really interested in random web chat because of the thrill that it can bring. Strangers love to talk about interesting topics. If they are not interested, they can just reconnect to another user. Basically, everyone can connect easily through Iddin. Bloggers also love the Iddin application because they get to market their blogs naturally.
Using Iddin's IM chat has never been easier. First, the user must select a specific country from the drop down list. Different countries are listed, and all of them have varying numbers of active chatters. The user can also go for the 'Anybody' option, wherein the application conducts a quick and thorough search all around the globe. Iddin will connect the user to the first chatter that it can find, regardless of gender or nationality. Obscene users cannot be avoided, but they can be blocked. Once these types of people are blocked, the user will never encounter them again despite Iddin's random connection.
About Iddin
Iddin is a free web application that specializes in generating random chat with strangers. Users can choose the locations of the strangers, or they can have the engine to search the whole world. Random chat is encouraged to protect the identity of people and also to empower spontaneous connection that is fun and interesting. Users can visit http://www.iddin.com to discover its features.