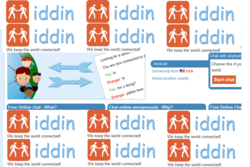 San Francisco, CA (PRWEB) April 19, 2012
Internet humor is definitely one of the best things in the Internet. There are hundreds and thousands of websites dedicated for the sole purpose of Internet humor. Pranks, jokes, funny videos—all of them can be found in famous humor websites such as 9gag and 4chan. This websites provide hours of fun chats and they have over thousands of registered users. When it comes to providing fun, chatters would definitely recommend Iddin Live. This application specializes on random web chat and has a high rate of global connectivity.
Iddin may be new in the random chatting niche, but it has already gathered stable ranking. Everyday, many people are using Iddin for chatting purposes. Some of them noted that Iddin is very fun to use because of the thrill that it can bring. People also love to chat with random strangers because they want to explore many things. Another desirable factor of Iddin is the fact that the application does not prompt everyone to give out any profile information such as email addresses and contact numbers. This appealed to people who are concerned about their privacy.
Internet humor is also everywhere in Iddin. In fact, some users actually uploaded pictures that came from 9gag and other humor sites. Funny pictures and jokes are also common in Iddin. This makes Iddin IM chat more fun and worthwhile. Humorists also use Iddin because they can reach out to many people who may or may not be interested with their jokes. If they are interested, the humorist may add them to his social network. If not, he can always be reconnected to another stranger.
Many people have also recommended Iddin. They have done this through their blogs and websites. Some of them even noted that Iddin Live is the best random IM chat application ever. New users who want to discover the advantages of this application can visit the Iddin homepage and begin chatting right away.
About Iddin
Iddin is a free web application that specializes in generating random chat with strangers. Users can choose the locations of the strangers, or they can have the engine to search the whole world. Random chat is encouraged to protect the identity of people and also to empower spontaneous connection that is fun and interesting. Users can visit http://www.iddin.com to discover its features.