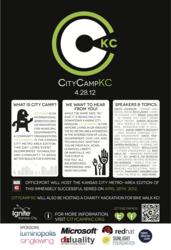 "We've had the right people, economic, academic, and technological resources. Now we have the open-minded leadership and the will of the people to increase citizen engagement while saving tax dollars. Jase Wilson, CEO, Luminopolis
Kansas City, MO (PRWEB) April 22, 2012
CityCampKC is the Kansas City edition of the internationally acclaimed CityCamp series that is sweeping the globe and creating positive change using the power of local talent. This day long event will focus on using crowd sourcing to affect immediate local positive change.
CityCamps elsewhere have resulted in powerful new tools for citizens to engage with City Hall, tackle problems in neighborhoods, and help enable governments to improve delivery of public services. Applications (apps) for reporting potholes, mapping crime, accessing transit data, and improving quality of life are just some of the possibilities for Kansas City. Kansas City, Missouri Mayor Sly James and Kansas City, Kansas Mayor Joe Reardon will discuss the vast possibilities of collaborating across boundaries. Rachel Hack from Google and Yasuyuki Motoyama of the Kauffman Foundation will discuss new developments in technology and entrepreneurship.
The day will start with a series of rapid-fire lightning talks about topics from Green Buildings to Living Walls and then move to interactive looks at government, literacy and economic development. The event will culminate in a Hack-a-Thon. A Hack-a-Thon is an open event where mindful creative, programmers, designers and citizens come together to develop or create new systems for better government.
This first CityCampKC Hack-a-Thon will benefit BikeWalkKC, the local nonprofit working to improve walking and bicycling in Greater Kansas City. The Hack-a-Thon will create an app for citizens to find safe and convenient places to walk or bike, report road or sidewalk hazards, and provide priceless data to local officials planning new bike lanes, trails, and sidewalks.
"In a world of rapidly changing technology and constantly shrinking government resources, it's more important than ever for local governments to leverage technology and citizen engagement to deliver more efficient and more relevant services" States Eric Rogers, Executive Director of BikeWalkKC
One goal of CityCampKC is to produce actionable ideas for applying technology to government challenges to create better, more efficient and engaging services for citizens. The event's organizing team hopes to help define the way participation, open data, and web applications can enhance the future of the metro area.
Organizer Jase Wilson, CEO of civic software Luminopolis states: "We've always had the right people. We've always had the economic, academic, and technological resources. Now we have the open-minded leadership and the will of the people to increase citizen engagement while saving tax dollars. Enhancing civic life through open technology and collaboration is an idea whose time has come in the KC metro. We're excited to help facilitate that at CityCampKC."
The day long event will take place Saturday, April 28th from 8:00 am until 7:00 at OfficePort KC (208 W. 19th St. Kansas City, MO 64108). To learn how to become involved with CityCampKC please visit http://www.citycampkc.org
###
Jase Wilson is CEO of civic software firm Luminopolis. His passion lies in enhancing connections between people and the places they care about. Having studied the relationship between cities, citizens and technology for more than a decade, he holds degrees in city planning and design from UMKC and MIT.
Luminopolis is a consortium of talented programmers, designers, and software developers united by one common desire: To empower communities through technology. Coordinated by Jase Wilson and Briston Davidge, Luminopolis was founded in 2003 with the goal of helping to "enlighten cities." Each Luminopolis project team is assembled according to individual project needs, so that there's never a shortage of resources and there's never more cost than there needs to be.http://luminopolis.com/