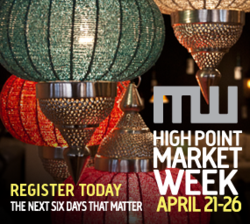 We want to take our message of good and affordable modern products to every store, designer and architect.
High Point, NC (PRWEB) April 17, 2012
Every spring the furniture world is abuzz with the sights and sounds of 80,000 visitors converging on ten of thousands of new products over 180 buildings of exhibit space. Since 1909 the High Point Market has become synonymous with all that's great, new and exciting in the world of furniture.
Aside from offering products, each year vendors also vie to become a visionary and authority enabled to dictate what's hot or not for the coming seasons. In 2012, look for East End Imports to soar to this level.
"Much has changed since 1909," said Pinny Cohen, Director of Marketing at East End Imports, "but the symbolic and functional nature of furniture remains as central as ever. People want products that are well constructed, but they also want to be wowed at the same time."
After only five years, East End Imports has seen their business grow from a select few stores in the NY-area to over 1,000 customers from around the world. To what do they attribute their rapid success?
"During the recession, our competitors cut color options, narrowed their product selection and raised the minimum order requirements. We just decided to work harder and more efficiently. We moved from a 15,000 to 90,000 sq. ft. warehouse, increased our product lines and color selection, and started working in the evenings to get things done."
The overtime seems to have paid off. Now with nearly 1,000 products in home and office furniture, lighting, bar, dining and outdoor sectionals, East End Imports is geared for another milestone: To be a protagonist.
"We want to utilize our new 3,700 sq. ft. showroom at High Point as a launch pad to take our message of good and affordable modern products to every store, designer and architect. Stop by and I'll give you the guided tour."
You can Visit Pinny Cohen and the East End Team from April 21-26 in Space 704 of the Hamilton Wing. 3D futuristic glasses not required.
EAST END IMPORTS is an energetic wholesale furniture company headquartered in New Jersey. They provide unique modern classic furniture that persistently looks fresh, elegant and sleek. They are known for being one of the most innovative furniture dealers on the market today.