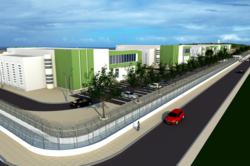 The data center's white space provides customers various options such as hot-isle/cold-isle containment cages, special in-row cooling racks and private suites built to order based on customer requirements.
Willemstad, Curacao (PRWEB) April 18, 2012
Curaçao Technology Exchange N.V. (CTEX), at an official groundbreaking ceremony attended by local government officials, financial institutions and international technology partners, kicked off the construction of what will be the most advanced and newest data center in the Caribbean and Northern Latin America.
CTEX's 'CU-1' is the first of four 5,200 square meter (52,000 square feet) super high-density data centers to be built in Curaçao on top of a mountain terrace 60 meters above sea level. Through local and international partners, such as Schneider Electric and CISCO, the company has officially started construction of the Tier-IV design, LEED certified data center. The facility will be interconnected with six existing submarine fiber systems, while additional international carriers are planning to make the facility a major carrier interconnection point for the Caribbean, Latin America and Europe. The CTEX facility is being built on the island of Curaçao. The island offers excellent fiscal benefits, including zero import duties on equipment, a 2% profit tax regime for international companies seeking to establish an operating entity on the island, and is safely located outside the hurricane belt. Too, Curaçao is part of the Dutch Kingdom, boasting a multi-lingual workforce (English, Dutch, Spanish, Papiamentu) making it the perfect gateway to Europe, the Caribbean, Latin America and the world.
"The data center we are building in Curaçao has no comparison anywhere locally or in the region. The level of security, ability to withstand hurricanes and seismic activity, redundancy, connectivity, carrier neutrality and richness of services simply does not exist today. A special thanks to Minister Charles Cooper, Curacao's Minister of Planning & Infrastructure, various government departments, local and international investors and financial institutions for making this project a reality," said Anthony de Lima, the company's Chairman and CEO.
In a speech held at CTEX's groundbreaking event, Minister Charles Cooper said, "Curaçao has all the necessary ingredients to once again become a major hub for commerce in the region. This time, we will do it the high-tech way. This site will serve as the breeding ground for a new league of entrepreneurs, new types of businesses and a place where global companies can come and have the peace of mind that they can leverage a truly world-class facility and conduct business in a safe and secure manner. The facility will be purposely built to be a super high-density data center. We will open our arms to those with qualified skills who want to come to Curaçao and lend a helping hand in building our newest economic pillar."
"Schneider Electric is pleased to congratulate CTEX on the start of their data center project and we thank them for the trust they have placed in our company to assist with making it happen. Schneider Electric is delivering on its commitment to get its customers the best energy efficient solutions possible. For months, we have worked side by side with the CTEX team to find solutions that provide the best potential of reducing the impact on the environment and the most sophisticated design. We are thrilled as this is one of the most ambitious projects that we've participated in. We are accomplishing our goal as a global leader in energy management to offer the best solutions in a world where finding creative ways to consume less of our planet's valuable resources is crucial," said Mr. Milton Silva, Schneider Electric's Director of Central America, Caribbean and Miami.
"CTEX is creating a new economic mainstay for Curaçao. We are glad to be one of the biggest sponsors of the project. We saw the potential from day one, and were determined to make this project come to fruition," said Mr. Eric Garcia Girobank N.V.'s CEO, one of the key financial institutions backing the project.
CTEX's first data center will become operational in the first half of 2013. The design is based on Tier-IV specifications, the highest standard for any datacenter. The facility's level of security, redundancy, and support for high-density cloud environments are based on the latest designs in the data center industry. The data center's white space provides customers various options such as hot-isle/cold-isle containment cages, special in-row cooling racks and private suites built to order based on customer requirements. The company is already taking reservations from domestic and global customers.
About CTEX
CTEX will operate a green certified data center and internet exchange point from which co-location, interconnection and managed services will be delivered to enterprise, government, and institutional clients. The data center fabric is designed using the latest 'cloud' computing infrastructure enabling companies to pool computing, storage, networking and power needs on an 'on-demand' basis. Customers can build private, virtualized environments leveraging VMware and other technologies to maximize their investments while fully controlling spend. CTEX offers four types of core solutions: cloud computing infrastructure, managed hosting, disaster recovery & workgroup recovery, and physical media storage & archival services. For additional information visit http://www.ctexpartners.com
About Girobank N.V.
Girobank N.V. is a financial leader in the Dutch Antilles and Caribbean region. They offer innovative products and services across through their retail banking, corporate banking, and international banking services. They recently launched a mobile banking platform to continue to meet and surpass their customers' needs. For more information visit http://www.girobank.net
About Schneider Electric
As a global specialist in energy management, with operations in more than 100 countries, Schneider Electric offers integrated solutions across multiple market segments. They maintain leadership positions in Utilities & Infrastructures, Industries & Machine Manufacturers, Non-residential Buildings, Data Centres & Networks and other groups. Focused on making energy safe, reliable, efficient, productive and green, the group's 130,000 plus employees achieved sales of 22.4 billion Euros in 2011, through an active commitment to help individuals and organizations make the most of their energy. For more information, visit http://www.schneider-electric.com