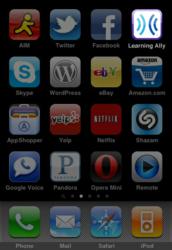 Our members continue to guide us in developing technology that is user-friendly and mainstream.
PRINCETON, NJ (PRWEB) April 17, 2012
Learning Ally, a nonprofit organization serving children and adults across the U.S. who have visual, learning and reading-based disabilities, has upgraded its most popular accessible audiobook playback software – known as Learning Ally Audio.
First released in 2011, the app has enabled thousands of users to access Learning Ally's digital library of downloadable audiobooks on Apple iOS devices, including the iPhone, iPad and iPod touch. With the previous version, users needed to download their book content to a computer via Apple iTunes or Learning Ally's Audiobook Manager, and then transfer it over to their preferred iOS device via wire connection (i.e – USB cable).
The upgraded version enables users to easily download their audiobooks from their personalized Learning Ally bookshelf directly to their devices via a wireless network, without the use of a Mac or PC computer. No launching of Apple iTunes or Learning Ally's Audiobook Manager is necessary.
In addition, users continue to enjoy the app's advanced accessibility features for ease of reading and learning – including page and chapter navigation, extensive bookmarking capabilities, last book/last position playback, variable speed and pitch control, and playing while locked to save battery life.
"Our members were enthusiastic when we launched this app last year," says Andrew Friedman, Learning Ally's President and CEO. "They continue to guide us in developing technology that is user-friendly and mainstream. Giving them the convenience of direct downloads to their favorite devices is a time-saver and makes their learning more efficient and productive."
Members who have an earlier version of the app will get an automatic upgrade through "Apple Updates"; and the audiobooks currently on their device will remain intact. For new app users, the app is available to Learning Ally members for $19.99 via the Apple iTunes store.
Learning Ally Audio is fully compatible with all iPad, iPhone 4s, 4 and 3GS models, and iPod touch second generation and above devices. For visually impaired members, the app takes full advantage of Apple's VoiceOver technology. The app integrates seamlessly with Learning Ally's memberships for indviduals as well as institutions and schools, and is an easy, affordable way to access and enjoy the organization's vast collection of textbook and literature titles. More information, frequently asked questions, a quick start guide, and customer service contact info to support the Learning Ally Audio app are available at http://www.LearningAlly.org/apple.
About Learning Ally™
Founded in 1948 as Recording for the Blind, Learning Ally serves over 300,000 K-12, college and graduate students, as well as veterans and lifelong learners – all of whom cannot read standard print due to blindness, visual impairment, dyslexia, or other learning disabilities. Learning Ally's collection of more than 70,000 digitally recorded textbooks and literature titles – delivered through internet download, assistive technology devices, and mainstream devices like iPhone and iPad – is the largest of its kind in the world. More than 5,000 volunteers across the U.S. help to record and process the educational materials, which students rely on to achieve academic and professional success. Learning Ally, a 501(c)3 nonprofit, is partially funded by grants from state and local education programs, and the generous contributions of individuals, foundations and corporations. For more information, visit http://www.LearningAlly.org.