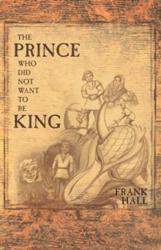 GREENVILLE, S.C. (PRWEB) April 18, 2012
Instilling solid Christian principles can be a challenging task for parents, teachers and caregivers looking for teaching tools that breathe new, modern life into the timeless tales from the Bible. Frank Hall comes forth with a contemporary adaptation in a story that will appeal to readers aged 8 – 12 in his unique new book, The Prince Who Did Not Want To Be King (published by WestBow Press).
In the land of Charlovania, King Charles is growing weary of his duties; wanting nothing more than happiness and harmony for his people has proven futile, and his subjects spend their days bickering and warring amongst themselves. Discouraged at his failure to bring the country together, the King looks to his four sons as he prepares for retirement.
With the exception of the youngest, Rupert, all of the Princes are eager to prove themselves worthy of serving as their father's successor. The three older boys all dedicate themselves to solving particular problems facing Charlovania, but their missions only pertain to certain, specific issues. Realizing that real change can only come by looking at the bigger picture, Rupert stays put and remains content to make small efforts towards making lasting improvements in the daily lives of Charlovania's people.
King Charles is faced with some crucial decisions as the time for him to choose an heir to the throne approaches. Which son will he pick, and why? Young readers will be drawn into Hall's fantastical world populated with memorable characters in this charming story that teaches important lessons about courage, honesty, teamwork and humility.
About the Author
Frank Hall served in the Air Force during World War II before graduating from Vanderbilt University with a bachelor's degree in experimental psychology and mathematics. He also earned a master's degree from Tennessee Technology University and worked as technical writer and engineer for 26 years in the aerospace industry. A prolific author, Hall wrote more than 100 books while working in the field of aerospace, as well as nationally-recognized technical papers, reports and more. Since retirement, Hall has continued to write and has published No Gertz, The Flying Mule, The Providential Plymouth and Oh By The Way.
WestBow Press is a strategic self-publishing alliance of Thomas Nelson, the world's premier Christian publisher, and Author Solutions, Inc. (ASI)—the world leader in the fastest-growing segment of publishing. Through this partnership, authors benefit from the rich publishing heritage of Thomas Nelson and the speed-to-market advantages of the ASI self-publishing model. Titles published through WestBow Press will be evaluated for sales potential and considered for publication under the Thomas Nelson imprint. For more information, or to start publishing today, visit westbowpress.com or call 866-928-1240.