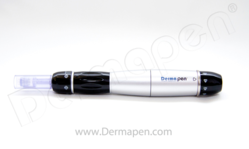 "Thank you so much to all our practitioners who voted for Dermapen, which was awarded Best Professional Skin Rejuvenation Device of 2012 at THE Aesthetic Show™ (TAS) 2012." ~ Chad Milton, Co-Founder and CEO of Dermapen
Las Vegas, NV (PRWEB) April 23, 2012
Dermapen® Awarded "Best Professional Skin Rejuvenation Device" at THE Aesthetic Show™ (TAS) 2012 by votes of aesthetic practices throughout the United States.
Awards were presented live on Saturday night, April 14th at the ARIA Resort and Casino as part of THE Aesthetic Show 2012. Hosted by Dr. Andrew Ordon, star of the Emmy-winning daytime talk show The Doctors, THE Aesthetic Awards celebrate the work of the best medical aesthetic professionals and products in several categories over the past year. These award winners were determined by the online votes of fellow aesthetic and cosmetic practitioners throughout the United States and were designed to highlight the world's foremost aesthetic practitioners and products.
"We created THE Best Aesthetic Products Awards to provide a platform to honor industry innovators for their contributions to the advancement of our field," said Michael Moretti, founder of MII and program chairman of THE Aesthetic Show. "At the same time, we are creating an opportunity for aesthetic practitioners to recognize and rate the best products and services that they use to give their patients amazing results every day."
Dermapen was awarded Best Professional Skin Rejuvenation Device of 2012.
"We are thrilled and delighted," said Chad Milton, Co-Founder and CEO of Dermapen. "I commend the Dermapen team for their professionalism and tireless efforts, whose contributions over the last year have resulted in this incredible achievement, to make Dermapen the standard in leading edge technology in micro-needling for skin rejuvenation."
Awards were given out in the following categories:
Best Dermal Filler
Best Neuromodulator
Best Professional Skin Rejuvenation Device - Dermapen
Best Non-Invasive Body Shaping Technology
Best Anti-Aging Skincare Line
Best Hair Removal Device
Best Skin Tightening Device
Best Energy-Assisted Liposuction Device
Best Practice Marketing Program
The Dermapen is the new industry standard in advanced skin micro-needling. It is a fractional micro-needling device that works to tighten, lift and rejuvenate the skin. It is effective in reducing fine lines and wrinkles, minimizing pore size, stretch marks, keloid, surgical and acne scars. It can also be used in combination with other rejuvenation products such as laser therapy, IPL therapy and platelet rich therapies (PRP) to increase trans-dermal delivery and efficacy of active cosmeceuticals. The Dermapen has been shown to aid in wound healing and stimulation.
The unique spring-loaded needle tip of the Dermapen uses an automated, stamp-like motion that enhances results while offering a more controlled and safer method of treatment than other micro-needling devices such as dermal needling rollers. This automated needling motion minimizes pain and discomfort, while better promoting an even absorption of topicals, such as PRP, hyaluronic acid, hydrogenated collagen, Vitamin C and peptides into the skin. The results are youthful looking skin with even tone and texture.
The Dermapen's needle depth can be adjusted during the course of treatment and the device can easily be maneuvered around facial contours and delicate features such as the eyes, nose and mouth. The multiple needles penetrate all skin types, textures and pigments without the risk of bending, breaking or causing more epidermal damage. This leads to enhanced collagen and elastin rejuvenation and shorter recovery time for your clients.
A broader range of treatments and the ability to treat all skin types, combined with low cost disposable needle tips, makes Dermapen a great investment for any plastic surgery, dermatology or oculoplastics office. The implementation costs of Dermapen are extremely low and will help increase revenue and provide a great return on investment for skincare professionals. Dermapen is truly a revolutionary breakthrough for beautiful skin.
For more information about Dermapen, please call (800) 981-5402, email Info(at)Dermapen.com, or visit us online at http://www.Dermapen.com
THE Aesthetic Show is a property of Medical Insight, Inc., a global progressive media company specializing in medical aesthetics. To learn more about Medical Insight, please visit http://www.miinews.com.