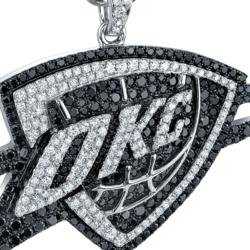 We invite all fans and friends of the Thunder as well as all NBA team markets to visit our store to view and purchase this exquisite jewelry
Oklahoma City, Oklahoma (PRWEB) April 17, 2012
Mitchener-Farrand Jewelers in Oklahoma City is showcasing a stunning collection of NBA Jewelry featuring the iconic marks of the Oklahoma City Thunder as well as other NBA marks and teams. The award-winning Jewelry Company, led by expert jewelers and partners Mark Mitchener and Dave Farrand, is celebrating more than 32 years in business in Oklahoma City.
"We invite all fans and friends of the Thunder as well as all NBA team markets to visit our store to view and purchase this exquisite jewelry," said 4th generation jeweler Mark Mitchener at Mitchener-Farrand.
The designer-created NBA Jewelry collections boldly feature precious metals, diamonds, alternative metals and enamel, handcrafted in neckpieces and medallions of iconic NBA logos and marks, for all 30 NBA teams. Prices start at $75 for the USA-made alternative metals and $2,800 for gold and diamonds. The W Series Limited OKC Thunder NBA neckpiece retails at $10,000 and features 3.7 carats of black & white diamonds and a 30" gold chain.
Mitchener-Farrand is located at 2844 West Wilshire at North May Avenue, in the heart of Oklahoma City, Oklahoma. The full service fine jewelry store features top brands including A. Jaffe, Bellari, JB Star, Simon G, Tissot, Foreverafter Diamond, Precision Set, Crown Ring and Hikari Pearls. For more information please call 405-842-4243 or visit MitchenerFarrand.com.
About MITCHENER-FARRAND
In 1980, founders Mark Mitchener and Dave Farrand began their small jewelry repair business in a basement at 50th and May in Oklahoma City, Oklahoma.
Today, they are Mitchener-Farrand, The Diamond Guys, on North May at Wilshire. Those shoestring days of an 8 foot display case are now 4,000 square feet! There are display cases filled with gorgeous pieces, a private room for appraisals, stone grading and specialty showings.
Mark and Dave are confident that more people than ever will open a new door to an exciting jewelry adventure as the dynamic Oklahoma City Thunder line is introduced to their existing and new customer bases. It will be merchandised and advertised with the élan it deserves. The NBA Thunder Jewelry line proves that their jewelry journey is not only continuing but is growing in ways unimagined in those not so long ago shoestring days. For more information please visit MitchenerFarrand.com.
About GAMEPLAN
Gameplan Jewelry designs, creates, produces and distributes quality fine jewelry, including officially licensed NBA and NCAA Jewelry products. Gameplan is led by Creative Director Monty Abramov, best known for his work with MIRABELLE 18K, Celine Dion, Elton John and Elizabeth Taylor jewelry brands. For more information please visit GameplanJewelry.com.