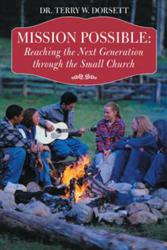 Barre, VT (PRWEB) April 18, 2012
Dr. Terry Dorsett has worked with one of America's largest congregations and has also been the pastor of small churches in Vermont, what he refers to as the least-churched state in America. In the new book Mission Possible: Reaching the Next Generation through the Small Church (published by CrossBooks), he shares his thoughts on how to reach the next generation of worshippers.
"Many small churches want to reach the next generation but do not know how," explains Dorsett. "They see larger churches doing big events and hiring multiple staff members and they know they cannot do that. But they want to do something."
Mission Possible gives small churches practical and easy-to-use ideas that will help them reach the next generation regardless of their size or budget.
Dorsett has discovered, through both personal experience and extensive research, easy-to-use methods and ideas that any church can put into practice. He believes there is nothing a larger church can do that a smaller church is unable to accomplish.
"What is important is that every church, regardless of size, fulfills the call God has for them in the community where God has placed them."
About the Author
Dr. Terry Dorsett holds a master's degree in religious education from Liberty Baptist Theological Seminary and a doctor of ministry degree from Golden Gate Baptist Theological Seminary. In 2004 he began Faith Community Church in Barre, Vermont, which is widely known for reaching young adults. He is the author of three previous books and a frequent contributor to Baptist Press.
CrossBooks, a division of LifeWay Christian Resources of the Southern Baptist Convention, is a Christian publishing imprint committed to bringing more Christian voices into the publishing industry. Established authors, first-time authors, and authors anywhere in between can meet their goals and fulfill their vision for their books by publishing with CrossBooks. CrossBooks' innovative style of publishing blends the best of traditional and self-publishing. While our authors contribute monetarily to cover the cost of publishing, we maintain a strict moral and quality standard that every manuscript must meet for us to publish. For more information on publishing your Christian book with CrossBooks, log on to crossbooks.com or call 1-866-879-0502.
###