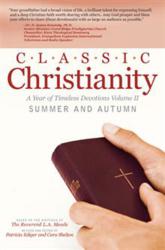 Camarillo, Calif. (PRWEB) April 19, 2012
While helping their elderly mother move, siblings Patricia Ediger and Cara Shelton came across a spiritual legacy bound up with string, preserved for future generations by their "Papa" decades before. The dusty boxes had lingered in the rafters for over 50 years when sisters Patricia and Cara discovered them. It was this experience that led to the creation of Classic Christianity: A Year of Timeless Devotions Volumes I and II (published by CrossBooks), based on the writings of the Reverend L.A. Meade, revised and edited by Patricia Ediger and Cara Shelton.
Packets of ivory paper with fountain pen scrawls were stacked tightly in the boxes. At a glance they knew that these papers, forgotten for a lifetime, were the preserved writings of their grandfather, the internationally known evangelist and pastor Lawrence A. Meade.
As they began to read, the words of truth and reassurance poured off the pages. They marveled at the timeliness of the teaching. Patricia and Cara immediately felt the weight of stewardship. "We knew these writings were preserved for a purpose," they recall. "What we had in our hands needed to be shared." Over the course of the next ten years the sisters worked, preparing a year's worth of daily readings to uplift, encourage, challenge and probe the very marrow of a person's soul.
The guiding purpose of the Rev. Meade's life had been to see people both brought to Christ and fulfilling their purpose in Him. Classic Christianity continues that mission.
Classic Christianity contains daily devotionals which broach topics throughout Scripture with an evangelist's heart, a scholar's insight, and a grandfather's tender touch. The ideas and topics covered are not only relevant to life in today's world, but are startlingly current – pointing to the timelessness of a life based on Scripture. Each day's devotion begins with Scripture, and ends with prayer, bookending the Reverend Meade's reflections on everyday life through the lens of eternal purpose.
Before his passing, Dr. D. James Kennedy, Senior Minister of Coral Ridge Presbyterian Church wrote, "Your grandfather had a broad vision of life, a brilliant talent for expressing himself, and a deep Christian faith worth sharing with others…may God prosper and bless your efforts to share (these devotionals) with as large an audience as possible."
About the Author
For over 50 years, the Reverend Lawrence A. Meade, a graduate of McMaster's Seminary in Toronto, preached God's word faithfully, first as an evangelist and then as pastor of local churches. With the help of his wife Lillian by his side, he sought to see souls saved, lives mended and Christians fulfilling their place in God's plan.
CrossBooks, a division of LifeWay Christian Resources of the Southern Baptist Convention, is a Christian publishing imprint committed to bringing more Christian voices into the publishing industry. Established authors, first-time authors, and authors anywhere in between can meet their goals and fulfill their vision for their books by publishing with CrossBooks. CrossBooks' innovative style of publishing blends the best of traditional and self-publishing. While our authors contribute monetarily to cover the cost of publishing, we maintain a strict moral and quality standard that every manuscript must meet for us to publish. For more information on publishing your Christian book with CrossBooks, log on to crossbooks.com or call 1-866-879-0502.
###