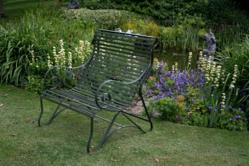 What better way to celebrate all that is good about Britain, than to bring together two of her best attributes: gardening and craftsmanship.
Manchester (PRWEB UK) 17 April 2012
Made by Hands of Britain, the award-winning online marketplace featuring fine British craft and design for home and garden, has announced its new collection of handcrafted garden art, sculpture and gardening tools. The new range coincides with National Gardening Week (16th to 22nd April), an inaugural event launched by the Royal Horticultural Society (RHS); the UK's leading gardening charity.
Inspired by a love and appreciation for British craft and design, Gillian Montegrande, a former landscape designer, founded the business to support British artisans and provide discerning customers with a unique gallery of beautifully honed and expertly crafted items to grace homes and gardens.
Included in the gardening range is a new collection of sundials and sculptures by artist Jennifer Tetlow, who crafts her nature and wildlife inspired pieces from York Stone.
The gardening collection also features new hand forged, traditional and contemporary furniture designs from Ironart of Bath, a family run business with a small team of skilled and experienced blacksmiths. The pieces, available in a wide range of heritage colours, are supplied galvanized for rust-proof longevity and ease of maintenance.
"As a passionate gardener I think National Gardening Week is a terrific initiative," says Gillian Montegrande. "It celebrates our collective expertise and love of gardening, for which we are world renowned and what could be better than to couple that with our other celebrated national skill for exceptional craftsmanship?"
A strong believer in catching budding gardeners early, Bulldog tools has introduced a beautifully crafted set of tools for children. Used and loved by amateur and professional gardeners alike, Bulldog Tools have been made at Clarington Forge, Wigan for 230 years. The factory has the only full time working forge still making spades and forks within the UK.
Each tool is individually hand forged from a solid piece of unique specification steel, for exceptional strength. They are designed to stand the test of time and to be passed down from generation to generation.
To see more works by these and other artists and craftspeople please visit http://www.madebyhandsofbritain.com
-ENDS-
About Made by Hands of Britain
Made by Hands of Britain is the award-winning online boutique that showcases the handcrafted products and services of over 200 of Britain's finest artists and craftspeople. It truly is the new destination to find handcrafted design items for home and garden.
Inspirational objects from across the art and craft spectrum can be found on the site ranging from visual arts pieces and sculpture, to jewellery and luxurious textiles and furnishings, clothing, toys, interior furniture and accessories, to bird houses, garden sculpture, tools and ornaments.
The site also caters to those seeking artisan foods with a wide selection of delectable cakes, cupcakes, chocolates, liqueurs, cheeses, ales and sustainable meat products.
Media enquiries to:
Michele (Lewis) McDermott-Fox
The Top Floor
T: 01625 502545 | M: 07729 501 369 | E: michele(at)thetopflooragency(dot)com | http://www.thetopflooragency.com