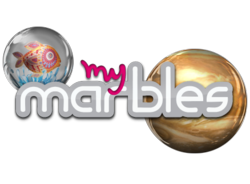 We are excited to partner with the talented team at Taktek Games to bring 'My Marbles' to the App Store
Amman, Jordan (PRWEB) April 19, 2012
Taktek Games, launched just over a year ago, secured an international publishing deal with leading independent mobile games publisher, Chillingo, to bring its first mobile title, 'My Marbles' to iOS and Android platforms this summer.
"I am very proud of our young team, and very excited to partner up with a renowned publisher like Chillingo," stated Gaith Kawar, CEO of Taktek Games. "This is the first of its kind deal in the Middle East and establishes Taktek Games as one of the leading game development studios and cements Jordan as the Game Development hub of the Middle East. The game was a 100% in-house effort from concept to design and development and raises the bar for us and others in the region. We have great expectations that 'My Marbles' will launch Taktek Games into the international spotlight."
"We are excited to partner with the talented team at Taktek Games to bring 'My Marbles' to the App Store," explained Joe Wee, Co-General Manager and Co-Founder of Chillingo. "Our teams are working closely together to polish the game to perfection and we look forward to sharing it with gamers around the world," adds Chris Byatte, Co-General Manager and Co-Founder of Chillingo.
'My Marbles' is a physics-based game where players get to creatively aim and shoot marbles in a beautifully 3D rendered environment. They must avoid obstacles including cups, keyboards as well as bounce off of candlesticks and microwaves to hit that special marble with a spin shot or a straight power shot to win. The game features over 250 unique marbles to collect and spans over ten 3D environments.
About Chillingo
Chillingo is a subsidiary of Electronic Arts and publishes innovative games and software for various platforms. Other hit iPhone®, iPod touch® and iPad™ titles include Cut the Rope™, Angry Birds™, Feed Me Oil, Helsing's Fire, Predators™, Ice Age: Dawn of the Dinosaurs™, Minigore, iDracula, and Modern Conflict. For more information about Chillingo please visit http://www.chillingo.com. For more information about Electronic Arts, please visit http://www.ea.com.
About Taktek Games
CoFounded in 2010 by Gaith Kawar, and Yazan Kawar, Taktek Games is currently among the largest game development studios in the Middle East. Taktek Games aims to become the premium, next generation, mobile game developer focusing on the Middle East, as well as on the international market needs. For more information, please visit http://www.taktekgames.com.