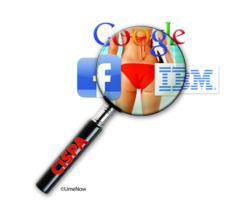 CISPA is un-American. It outsources spying to American corporations.
Pembroke Pines, Fl (PRWEB) April 19, 2012
Evelyn Castillo-Bach, Founder and CEO of UmeNow, announced today, in conjunction with her Occupy Privacy campaign, that U.S. companies have an ethical responsibility to reject CISPA, the cyber-security bill scheduled to come to a vote next week before the House of Representatives. She warned that CISPA is un-American and that companies who support the bill risk being accused of endorsing cyber-spying.
"CISPA circumvents the 4th Amendment, which gives the people the right not to be searched in their persons, houses, papers, and effects without probable cause and a search warrant. If CISPA passes as currently written, any branch of government, including the military, can be authorized to spy on Americans with impunity, sifting through people's personal information — medical records, private emails, social network communication, financial information — all without a warrant, proper oversight or limits as long as a corporation is used as a front. CISPA is un-American. It outsources spying to American corporations. U.S. corporations have an ethical responsibility to reject CISPA," stated Castillo-Bach, who is also an outspoken privacy advocate and known to her followers as Privacy Mom.
CISPA -- H.R. 3523, The Cyber Intelligence Sharing and Protection Act, was written by Rep. Mike Rogers (R-MI) and Dutch Ruppersberger (D-MD). The bill is widely opposed by privacy advocates. Major organizations opposed include the Center for Democracy and Technology, Free Press, the Electronic Frontier Foundation, the Constitution Project and the ACLU. The bill is backed by major tech and communication companies who have gone on the record with CISPA letters of support. Supporters of the bill include AT&T, Boeing, BSA, COMPTEL, Facebook, IBM, Intel, Lockheed Martin, Microsoft, Oracle, US Telecom and Verizon.
"Major corporations need to rethink CISPA. They need to ask themselves is CISPA a cyber-coup attack on the 4th Amendment, and do they want to be a party to it? I believe we have the intelligence and ingenuity to defeat cyber attacks launched against us by malicious global actors without destroying our constitution, eviscerating the 4th Amendment, and instituting a global cyber-police state led by corporations," stated Castillo-Bach.
ACLU has officially stated that "CISPA will allow Internet-related companies such as Internet service Providers, carriers, and social networks to share user information with the government agencies without seeking a court order."
Earlier this year, Senator Al Franken (D-Minn.) warned Americans that corporations are not bound by the 4th Amendment. In his letter to National Telecommunications and Information Administration (NTIA), he stated:
"Outside of certain industries and market sectors, our privacy rights with respect to the private companies we interact with every day online are limited, if not entirely absent....Federal law allows your wireless company or smartphone company to disclose to non-governmental third parties a detailed record of everywhere you've been in the past month or year using geolocation data. [...] I think that most Americans would be very surprised by this."
"Key warning by Sen. Franken is that companies can now disclose private information to non-governmental parties. If CISPA passes, companies will be legally free to hand over private information directly to the government," stated Castillo-Bach.
Company Information:
UmeNow is a private "people's network" that has banned all tracking and all ads. UmeNow has a 2-tier membership structure. It promises the same privacy protection to its free members. Premium level members who subscribe for $6.00/ month have access to all site areas.
Evelyn Castillo-Bach is the founder of UmeNow and Collegiate Nation. UmeNow entered into its silent launch in July 2011. Collegiate Nation--also known as GoCNCN.com-- is the first and only private network exclusively for college students. Castillo-Bach was interviewed earlier this year by Miami television to address privacy issues impacting college students.
Both UmeNow and Collegiate Nation are known for fiercely protecting the privacy rights of its members. All ads, third party apps and games are banned because they are back doors to tracking and extracting private information. Castillo-Bach earned her M.S. in 1993 from Columbia University Graduate School of Journalism. She has traveled extensively in Ethiopia and in the Balkans, accompanying her Danish husband who is a lawyer.