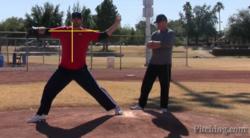 "Parents can easily learn how to videotape and find the faults that are creating arm problems and reducing their son's velocity. Without videotaping coaches are guessing."
Scottsdale AZ (PRWEB) April 19, 2012
Baseball pitching arm injuries have skyrocketed at all levels over the past decade. Nearly 50% of high school and 45% of Little League pitchers pitch with pain every year. 50 percent of MLB starters and 34 percent of all relievers will go on the disabled list each year. Tommy John surgeries (elbow ligament replacement) are accurring at an alarming rate. One reason, according to former Red Sox pitcher Dick Mills is due to poor pitching mechanics that not only increases arm injuries but also reduces pitching velocity.
Mills is waging a war against arm injuries letting parents and coaches know that most can be prevented.
On his website this week, (http://www.Fenway100YearAnniversary.com) to commemorate the 100th Anniversary celebration of Fenway Park on April 20th, which Mills will attend along with other fellow Red Sox alumni, parents, coaches and players can watch three free videos on how to improve pitching mechanics plus get a free mechanics checklist when they sign-up.
Mills encourages all parents and coaches (at all levels including professional) to regularly videotape their pitcher's motions using a video camera. By filming the pitcher's mechanics from three positions and then slowing down the video, common faults are easily detected that can't be seen using the naked eye. These mechanical faults can reduce pitching velocity and add stress to the arm.
Mills says: "Pitching is one of the most complex highly skilled mechanical actions in all of sports which contains the fastest human motion – the acceleration of the pitching arm. One of the reasons so many pitchers are getting hurt, at all levels including the major leagues, is due to mechanical faults that add stress to the arm. These same pitchers can lose velocity because they are not using their bodies as efficiently as possible so their throwing arms end up in a poor position, thus adding stress to their arms."
Dick and his son Ryan, a former 1st round pick of the Twins, offer a Video Analysis service they term "Correction for Protection." Using special software, they do a side-by-side voice-over video analysis, comparing amateur pitchers to top MLB pitchers with good pitching mechanics – pointing out needed corrections and then how to make the specific improvements to boost pitching velocity and reduce stress to the arm.
Mills says: "Seeing is believing. Once pitchers are able to see themselves slowed down at critical points in their delivery being compared to an MLB pitcher with good mechanics, they're able to get more accurate feedback, better understanding, and the motivation to begin making corrections to their pitching mechanics."
"Parents can easily learn how to videotape and find the faults that are reducing their son's velocity and creating arm problems. The camera becomes the coach. This takes the pressure off the parent because the camera does not lie. Hopefully more coaches and instructors will begin using this valuable tool as well. Without videotaping coaches are guessing at best." says Mills
"Video feedback is far more accurate and useable than just oral feedback. Seeing it slowed down on video creates better understanding. By improving mechanics and using the body more efficiently so the arm is doing less work, pitching arm injury risk drops and pitching velocity will almost improve automatically…" says Mills.
To watch the three free videos and get the mechanics checklist:

This is good until April 27, 2012!
About All About Pitching:
All About Pitching (http://www.pitching.com), online since Aug 1996, is the first website to focus on sports science training solutions to improve pitching performance and video analysis techniques as the only accurate way to assess a pitcher's mechanics to improve velocity and reduce the risk of injuries. Services and products offered include instructional DVD's, video analysis, clinics, and one-on-one instruction.
Media Contact:
Dick Mills
All About Pitching
480-391-3355
dickmills(at)pitching.com
# # #