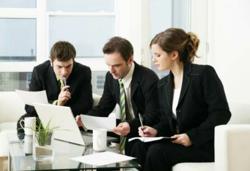 The country really needs people to innovate, invent and get Britain back on the map again as the global force it deserves to be.
(PRWEB UK) 19 April 2012
Despite economic forecasts looking decidedly gloomy of late, company formation agents Business Tax Centre are reporting a rise in the number of business start ups over the last financial year. It has long been argued that entrepreneurial activity holds to key to leading the country out of recession.
Irma O'Neill, a representative of Business Tax Centre made the following statement regarding the increasing number of people utilising their services to establish small businesses,
"Small businesses are traditionally said to be more flexible and innovative than established companies who tend to weather economic downturns worse, failing to adapt to an ever changing market. Because of this we have seen many of our high street stores going into administration lately; the demise of Game, Woolworths, Millets and a whole host of well-known names have made a huge impact on the high street, but this – far from being devastating – can actually lead to gaps in the market that new businesses can fill and ultimately thrive in."
Company Formation House statistics show that there has been a steady rise in company registrations over the last few years after an initial lull in the 2008/2009 period when the economic crisis hit hardest. In the 2010/2011 financial year, there has been a reported 4.2% rise in company formation in England and Wales, following on from a 2.8% rise in the year previous.
Representatives from BTC suspect this is aided by companies who are seeing niche markets and exploiting the gaps left by companies who fail to cash in and who are spurred on by high unemployment. Rob and Mart Drake-Knight for example, used their unemployment to spur them on and formed a company for fashionable eco-friendly clothing in 2008. They are now reporting that they plan to turnover £1m this year and have had growth of 300% per year.
Irma also made the following comments; "We've been pleased with the amount of small businesses who have been approaching us recently. Many of the biggest companies in the world have been formed during recession and we really do believe that it's vital to lead the country out of recession. The country really needs people to innovate, invent and get Britain back on the map again as the global force it deserves to be"
New technology and forms of media are also undoubtedly at the forefront of new innovation with many companies now starting up on the internet rather than using more traditional methods like market stalls and high street shops. This gives them access to a global community which aids new businesses considerably. As John Abbot, one of the founders of web based fitness and nutrition company Oobafit commented; "The internet allows you to reach a huge number of people across the globe. You don't need an interview or even pay much money to start a website, you just need an idea"
Fewer overheads and ease of start up have meant that budding entrepreneurs now have a platform to succeed where others would fail and offer renewed hope of a vibrant and robust economy in the near future.