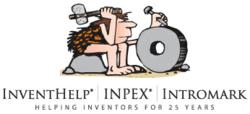 Pittsburgh, PA (PRWEB) April 18, 2012
InventHelp®, America's largest invention submission company, announces that one of its clients, an inventor from New York, has designed a device that could provide a convenient way to score a section of drywall accurately. This invention is patented.
The "Lightning Striker" unit would feature measurement markings for easy reference and guide and stabilize a user's blade when cutting. This feature would enable a user to measure and score drywall quickly and easily. Lightning Striker is designed to eliminate the need to measure the material with a tape measure and to save a user from having to perform additional labor.
The Lightning Striker device would resemble a T-square and measure approximately 24 inches long, 8-1/2 inches wide and ¼ inch thick. The unit would be composed of plastic or steel. The vertical leg of the T would feature several miniature rollers on the underside that would allow the device to be slid along the surface of the drywall easily. The top surface of the horizontal leg would feature measurement markings in one-inch increments. One edge of the horizontal leg would feature the markings 1 through 24. The other edge would feature the markings 25 through 48. The sides of the horizontal legs would be concave. A movable blade holder would be attached to the sides of the horizontal leg of the device. The blade holder would be rectangular and feature downward-extending lips on either end that would terminate in convex nubs, which slide into the recesses on the sides of the horizontal leg. A user would lay the unit onto a section of drywall and connect the blade holder. Then, the user would insert a knife into the blade holder and cut normally. The unit would serve as a guide to ensure a straight, accurate score. Lightning Striker would be producible in a variety of sizes, as well as a version that would feature a built-in fixed blade.
InventHelp® is attempting to submit the invention to companies for review. If substantial interest is expressed, the company will attempt to negotiate for a sale or royalties for the inventor. For more information, telephone Dept. 06-HAK-181 at (800) 851-6030.
Manufacturers interested in reviewing additional inventions and new product ideas can contact InventHelp's marketing partner Intromark by filling out an online request to review new product ideas here.
# # #