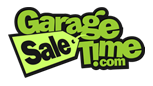 (PRWEB) April 20, 2012
GarageSaleTime.com, an innovative website making a splash among bargain hunters across the country, is gearing up for a busy summer and is offering an incredibly valuable offer to the website's users to boost the popularity and revenue from their garage sales. The website is happy to announce that GarageSaleTime.com users can list their garage and yard sales on GarageSaleTime.com free of charge. The offer provides an unparalleled level of national exposure with no need to make an investment. GarageSaleTime.com is a comprehensive listing service that enables those running yard and garage sales to dramatically increase the size of the audience they can reach without having to go door-to-door, drive around town posting fliers, or making other costly investments in time or money. GarageSaleTime.com has drawn the attention and support of countless Americans, and the free offer is intended to bring the benefits of this system to many more.
With summer on the way, there is no better time to take advantage of the free offer from GarageSaleTime.com. Thanks to the warmer weather and the increased flexibility of many people's schedules, the rates of hosting and visiting garage sales increases dramatically during the summer months. If you've worked hard to find hidden treasures in your house and to organize and publicize your sale, you don't want to run the risk that it will be missed, so using the comprehensive online listings available at GarageSaleTime.com can be extremely valuable.
This one-of-a-kind online garage sale directory provides a robust selection of features intended to enhance promotional reach and maximize potential revenues. The online garage sale features at GarageSaleTime.com include large display maps, complete descriptions and address information, times and days of operation, and the ability to specify how many homes are involved, what items will be for sale, and complete freedom to offer any further information that might be important to garage sale seekers.
While there can be a lot of uncertainty in garage and yard sales, the online garage sale services at GarageSaleTime.com provide some assurance that your message will be seen. Additionally, the online garage sale directory helps you find local deals.