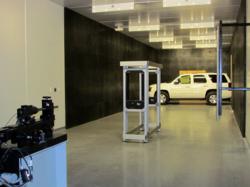 HP White's newest ballistics range sets the industry benchmark for state of the art," said Mike Parker, President of HP White Laboratory.
Baltimore, MD (PRWEB) April 17, 2012
HP White Laboratory, Inc., the world's largest independent test laboratory of armor and ballistics announces the grand opening of its new, state-of-the-art testing complex in Street, MD, which showcases a 75-foot-long ballistics and ballistics resistance testing range. The new indoor range includes observation widows to watch testing in real time, and high speed video for stop-motion analysis of ballistic impacts on items from goggles and body armor, up to full-size armored vehicles. Consistency is vital when testing such items, so the range has been engineered to hold precise environmental conditions (+/- 0.5˚ F and +/- 0.5% of RH).
The complex also houses a forced-entry facility for testing to Department of State and other global physical security requirements. The facility has a 30 foot tower for drop testing in accordance with Federal Railroad Administration (FRA) for safety glazing on locomotives, passenger cars, and cabooses. This facility bolsters HP White's leadership position in the industry; with 9 indoor ranges and broad spectrum environmental testing capabilities, HP White upholds a commitment to initiate testing within 24 hours of sample receipt.
"Armor products are expected to withstand a range of ballistic threats under diverse conditions," said Mike Parker, President of HP White Laboratory. "To simulate these challenges, the testing environments must now provide an unprecedented level of sophistication, precision and control. HP White's newest ballistics range sets the industry benchmark for state of the art."
HP White's 75-foot ballistics range touts the following:

Ballistics Range Sq Ft: 1250 (75'L x 12'H x 16'W)
Up to .50 AP or 20 mm Fragment Simulated Projectile
Aberdeen Test Center Compliant Facility
Modular Design and Optimized Workflow
High-speed video and WiFi enabled
Automatic Range Lockdown and Push-button Firing
Temperature Control: +/- .5-degrees F of set point
Humidity Control: +/- .5% of set point.
Download a free copy of the facility's specifications guide at http://www.hpwhite.com/new-ballistic-facility.
About H.P. White Laboratory, Inc
H.P. White Laboratory, Inc. is an independent ballistics and ballistics resistance laboratory. For 75 years, H.P. White has specialized in research and development, validation testing, certification and quality control evaluations of body and vehicular armor systems, sub-components and materials. H.P. White developed many of the ballistics resistance standards, processes and methods used today to test body and vehicular armor for a full scope of applications (law enforcement, military, personal protection), threats (stab, slice, bullet, explosive), and environments (urban, war time, extreme heat/cold). H.P. White's services add value throughout the entire supply chain, from research and development processes and product certification to production lot acceptance and post-production quality control. H.P. White serves the needs of Federal, State, Local and Foreign Government agencies, and the manufacturers dedicated to saving lives of law enforcement and war fighters, globally.